09 janvier 2011
Hi everybody,
It's been a long time! I was so busy at the enfd of 2010 that I didn't take the time to come to give you some news!
I'm really fine! We enjoyed the Christmas period, the lot of snow we had, the visits we had and we did, well, it was a family and friends time.
The New Year started well for us, we are just back from the Alpes in France where we spent a week skiing, enjoying the nice landscapes and the snow! We had such a great family time!
These are a few pictures of this end of 2010 and begin of 2011!
I would like to wish you a very good and happy year! Lots of love, joy, hapinnesses (small and bog ones), surprises, discoveries, well-ness, and even more!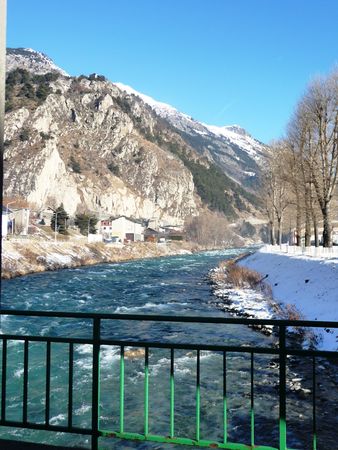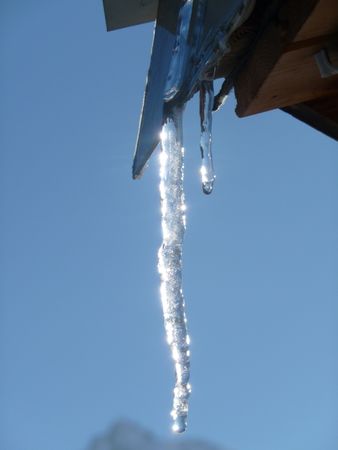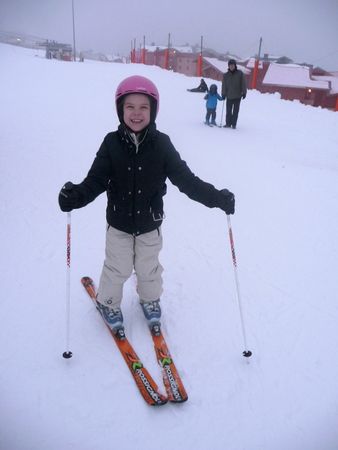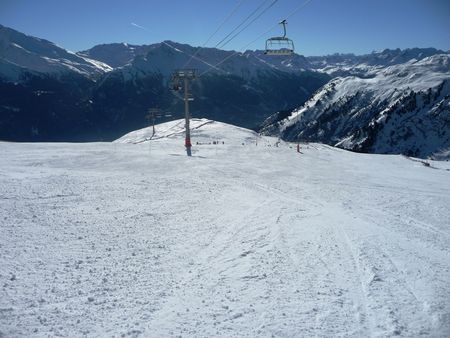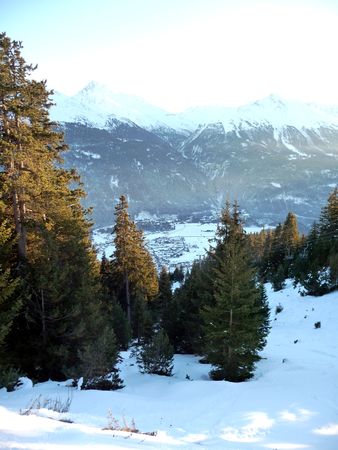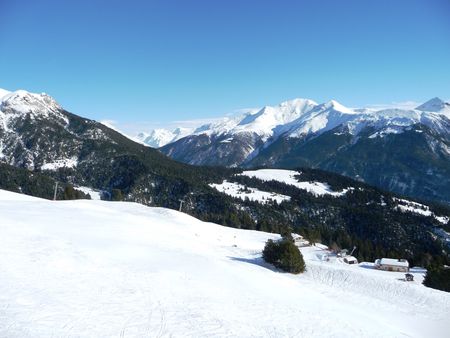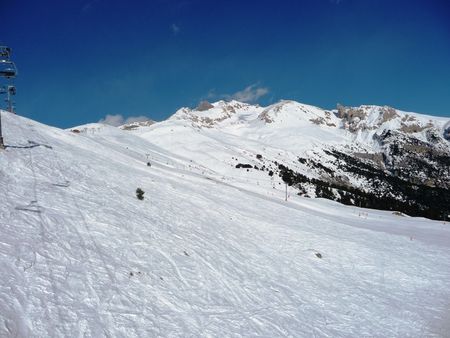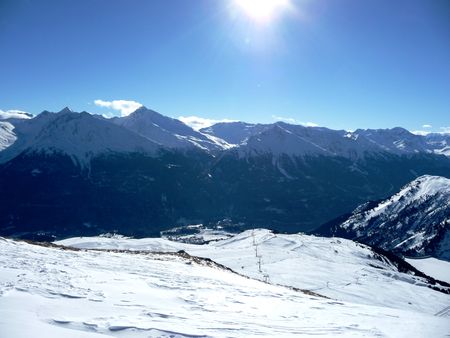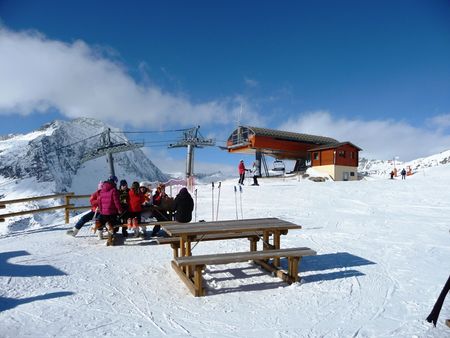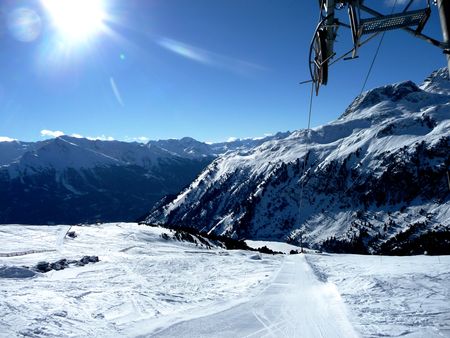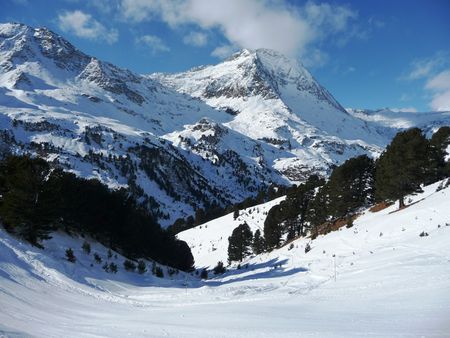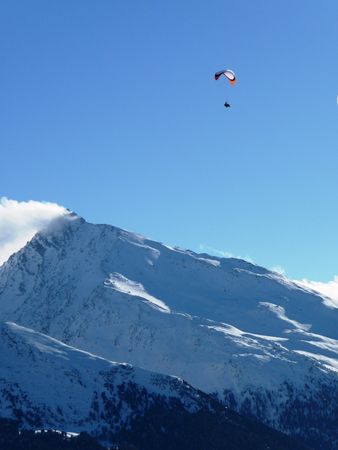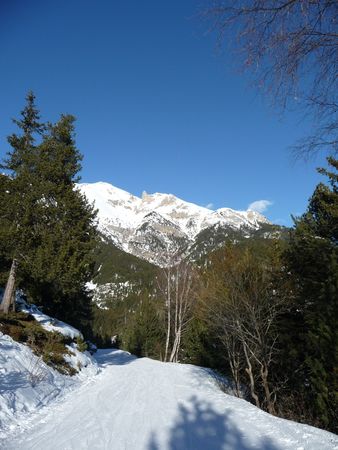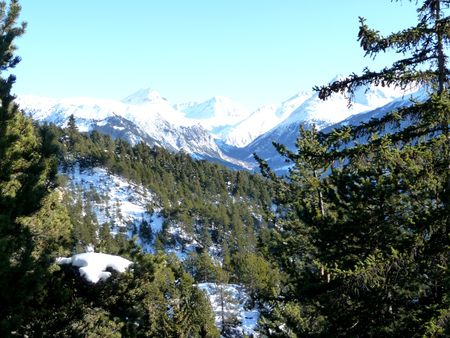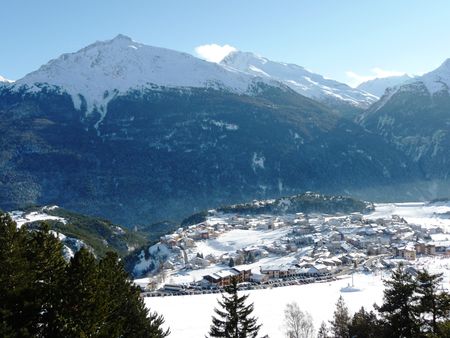 Hugo at his ski class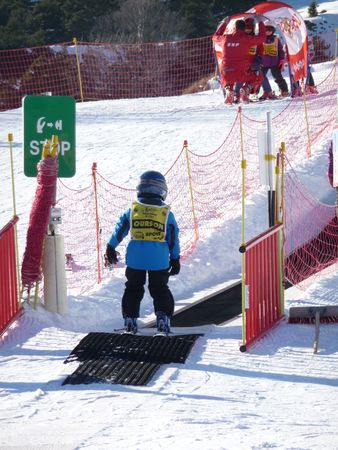 Manon in her group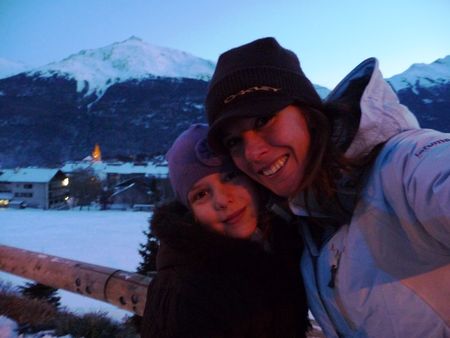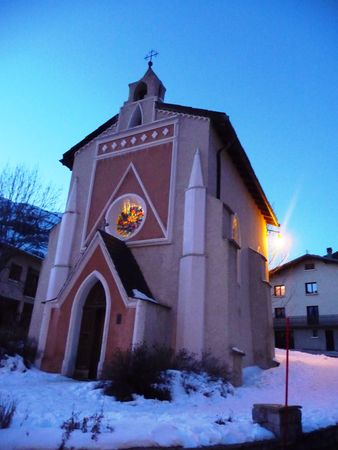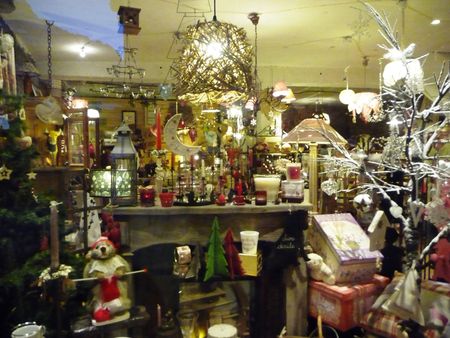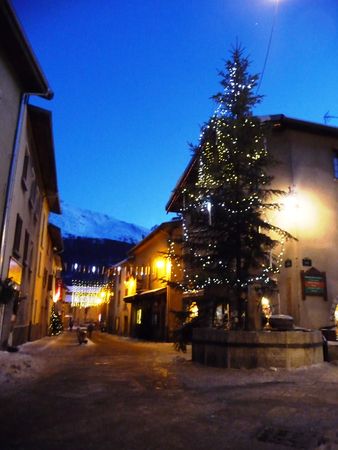 Games at night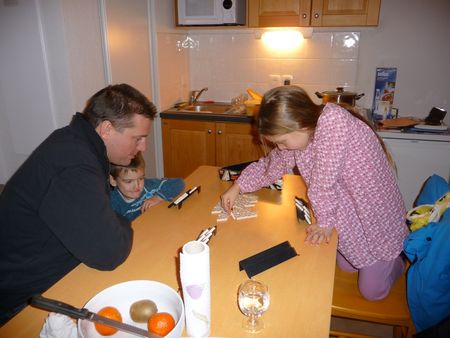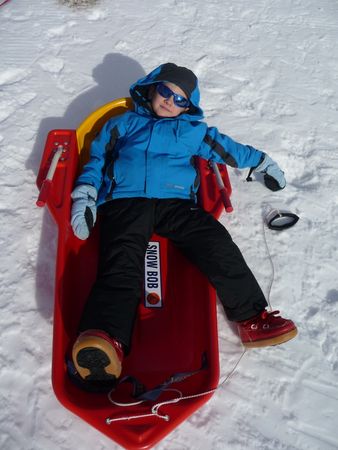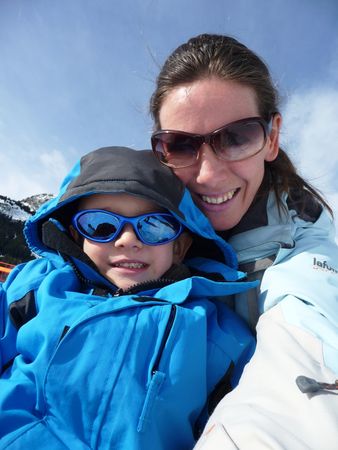 Just the girls!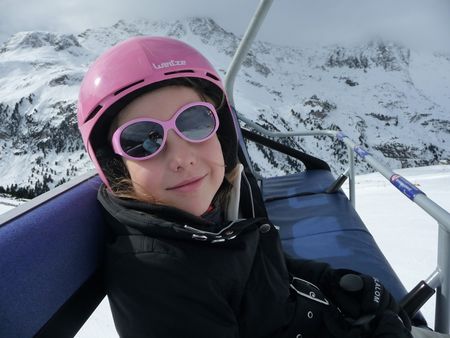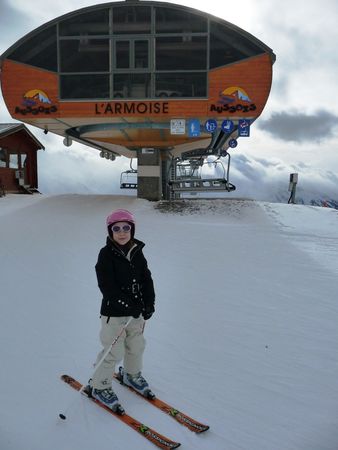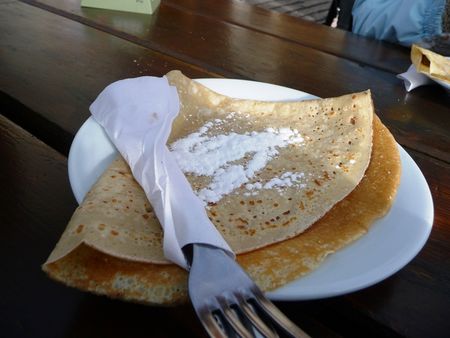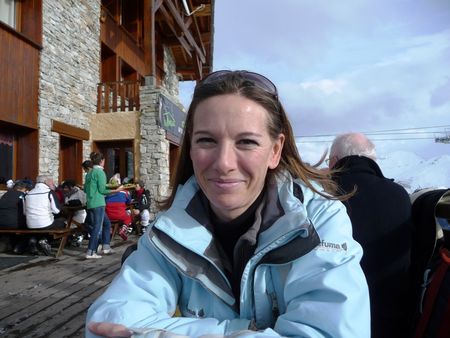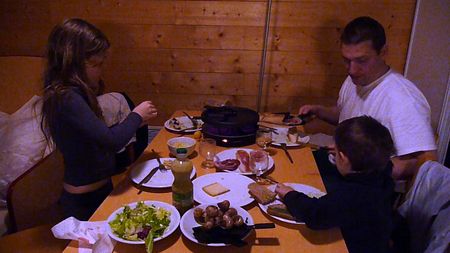 Some of the pictures of December:
a visit of the Christmas Market in Durbuy, the smallest town in the world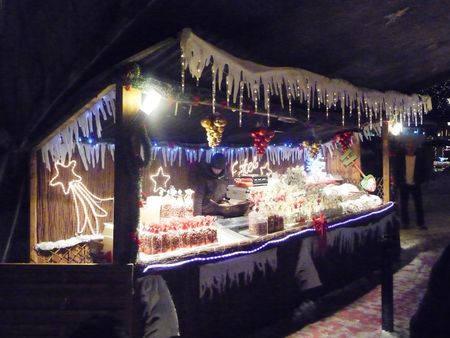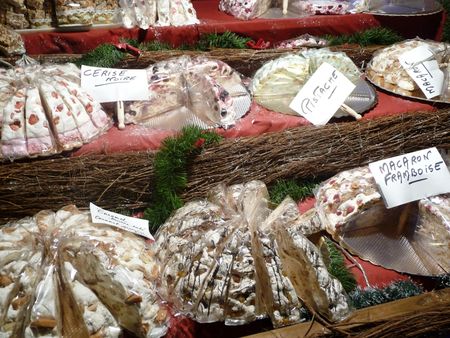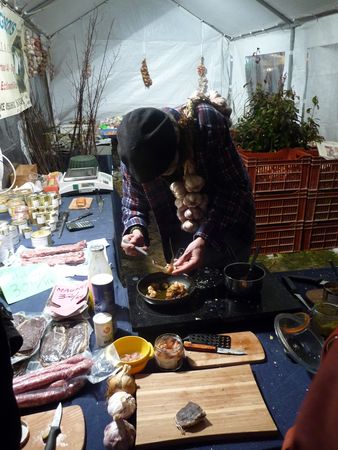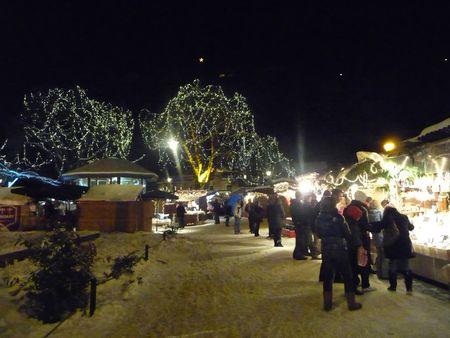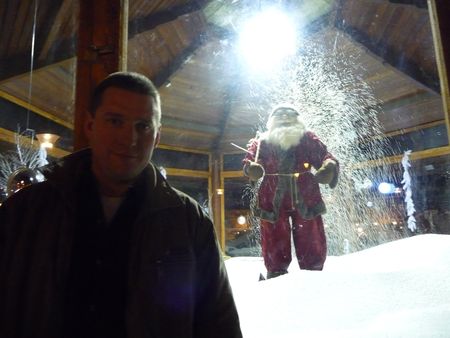 On this year we had a really snowy winter! It's been long years that I haven't seen so much snow, more than 25 years!!!
The whole family enjoyed the snow!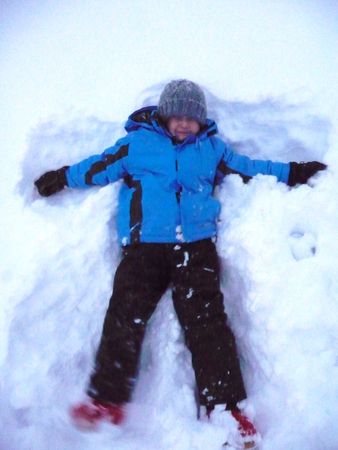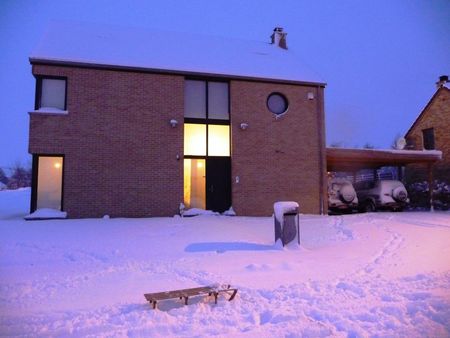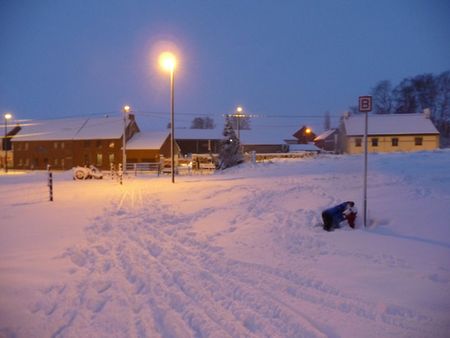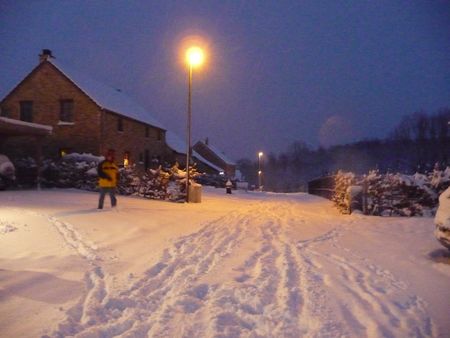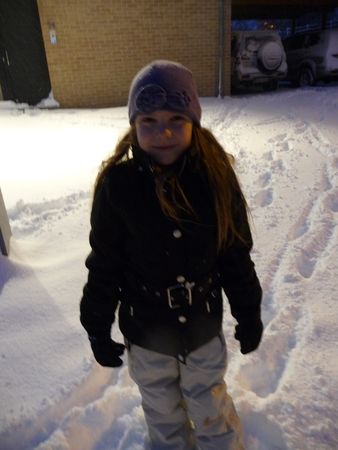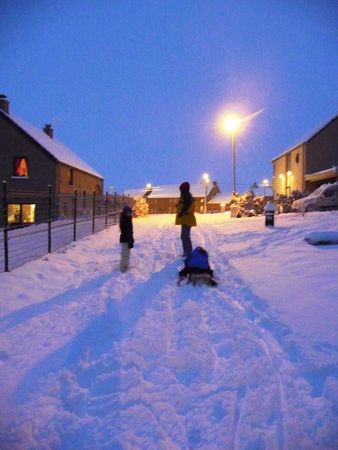 playing with the neighbours
after a snowballs fight with Didier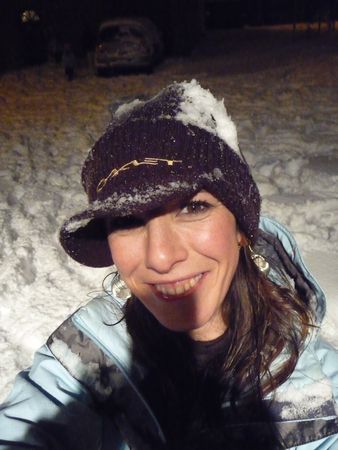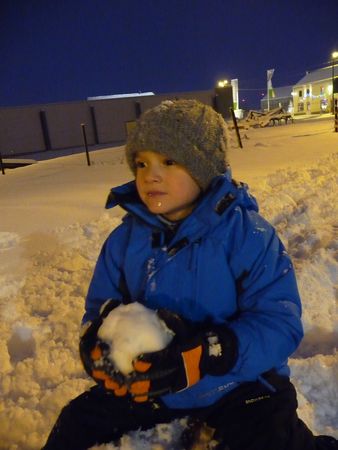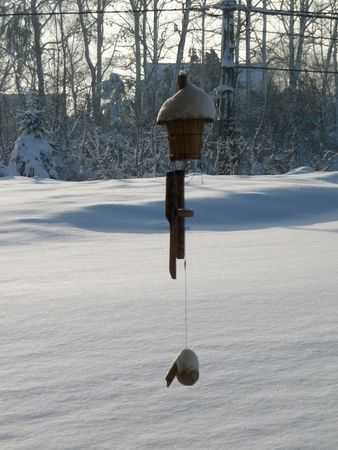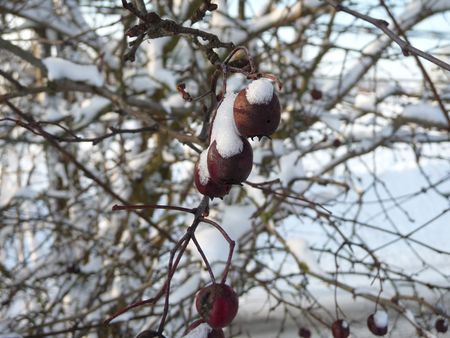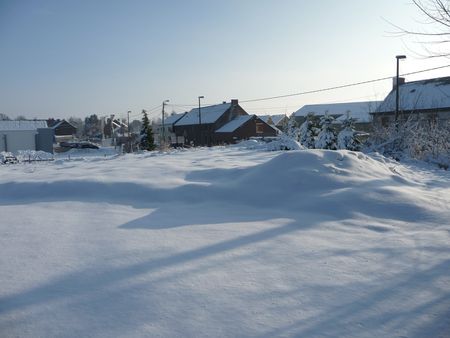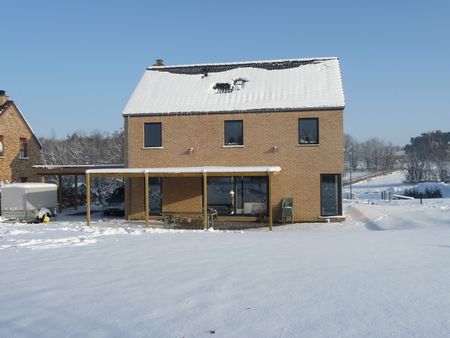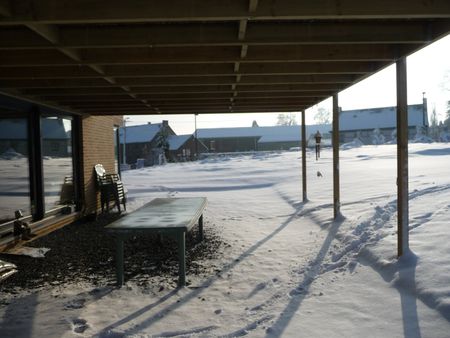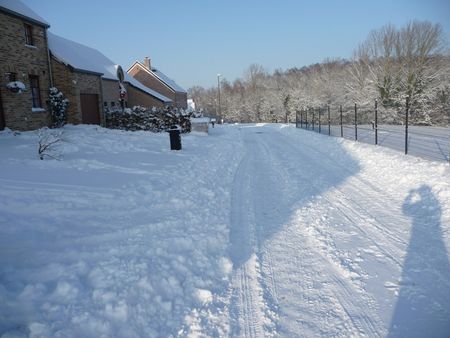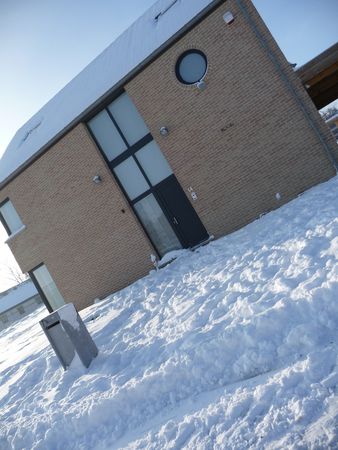 Mother Nature offered us great presents once again!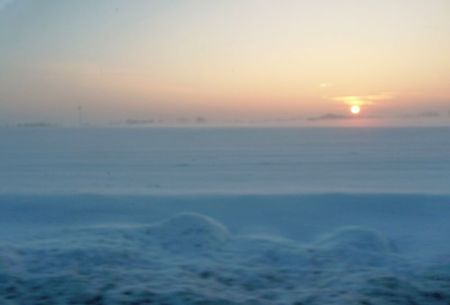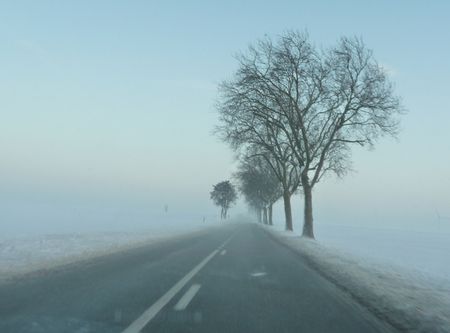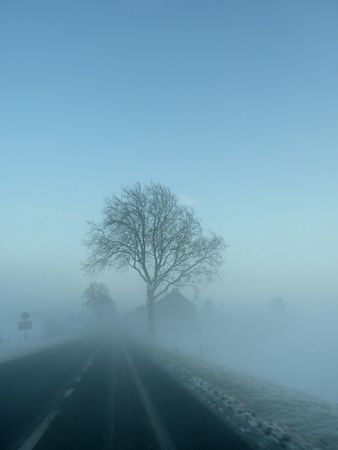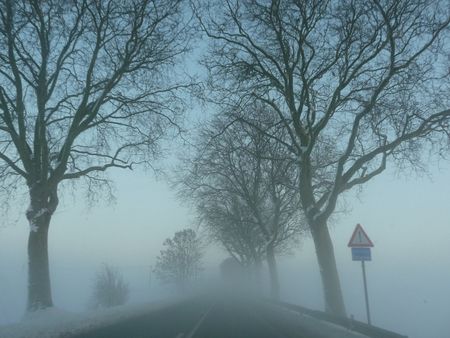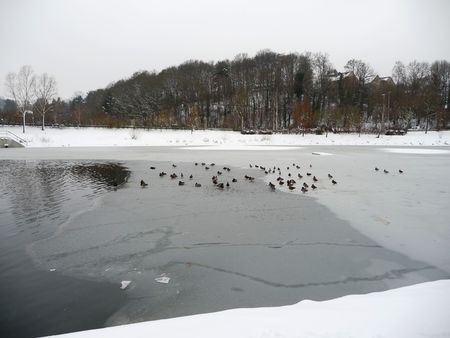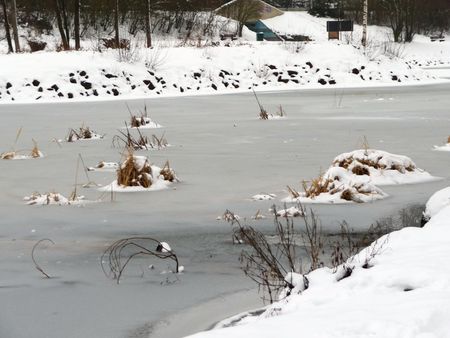 Louvain la Neuve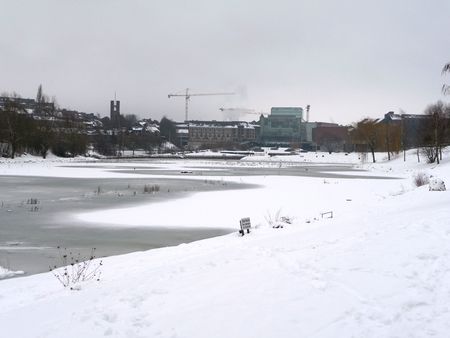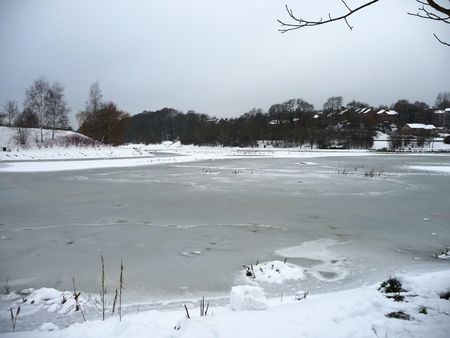 The kids school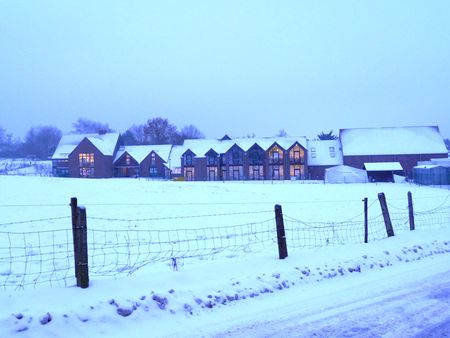 the daily route to go to school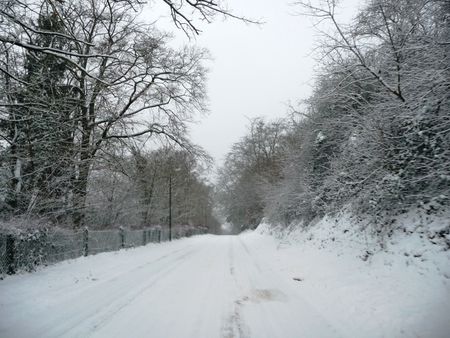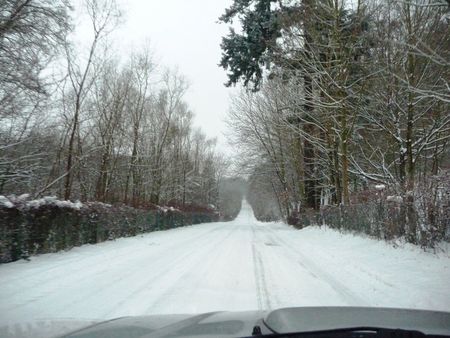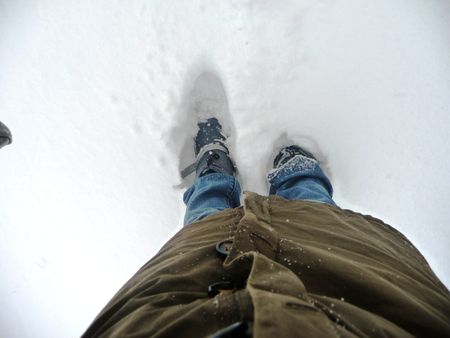 After all of that, how not to love the winter?
And last but not least, the pictures of Christmas with my family and my mother in law.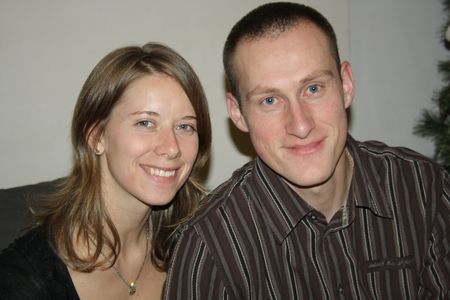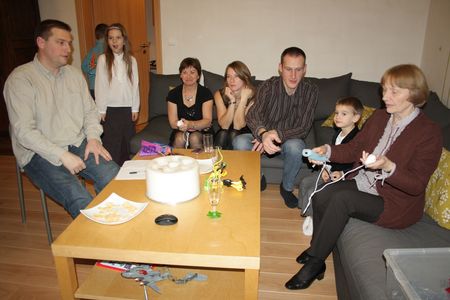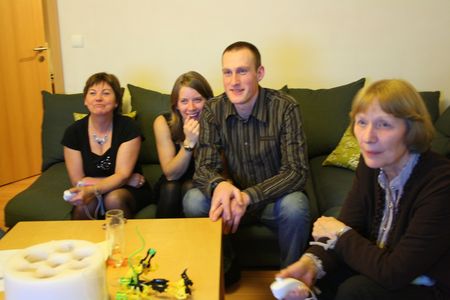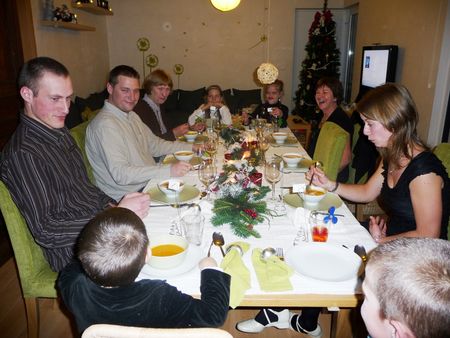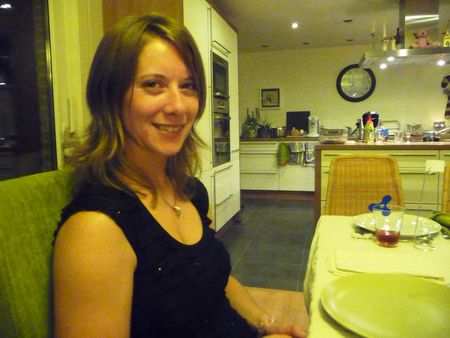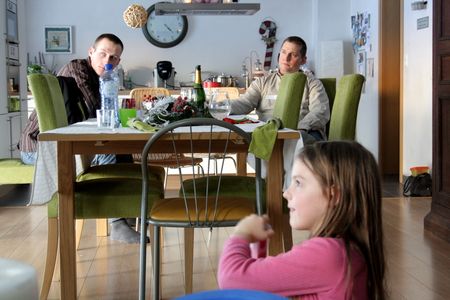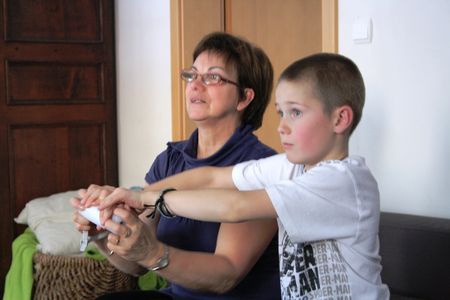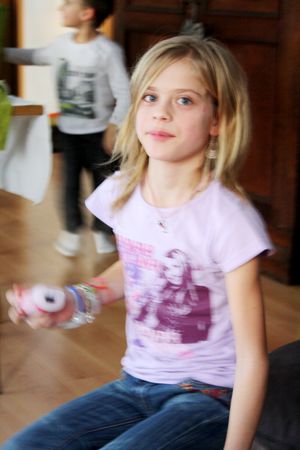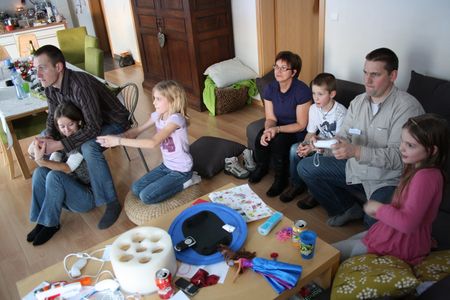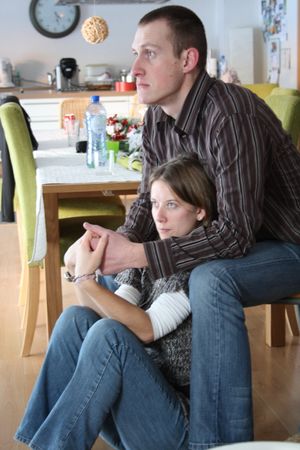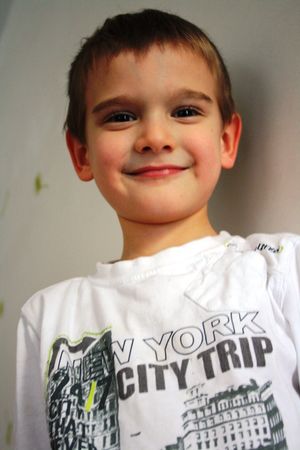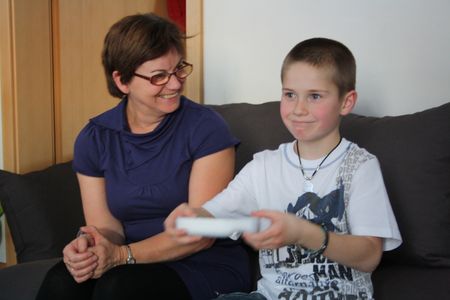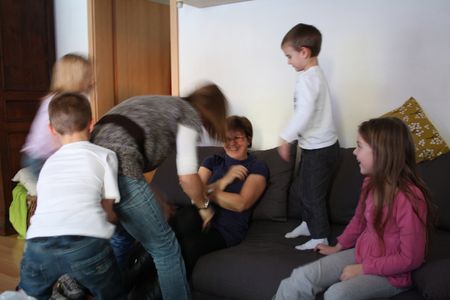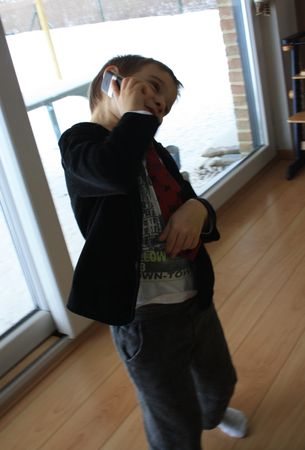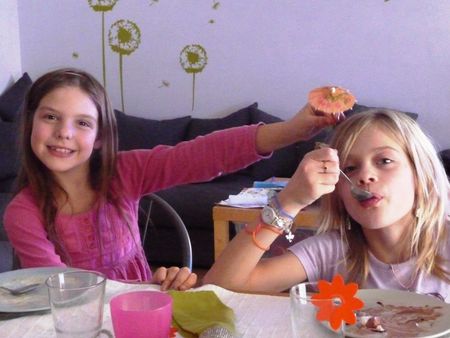 That's it for tonight!
I hope you enjoyed these pics! Thank you for your comments.
Talk to you soon!
05 décembre 2010
Hey everybody,
Every year (except on last year), we decorate our Christmas tree on Decembrer 7th, the day after Saint Nicholas came in our house. But since last year, we do it on December 1st! Well, on last year, I thought I had the envy after visiting American houses, where they decorate it the day after Thanskgiving. On this year, probably after surfing on different American scrapbooking blogs, I had again this envy to do it before. It's just 7 days before, but a week in addition that we can enjoy it, so I declare officially (lol) from right know, that we will decorate it every year before Saint Nicholas'day!
I wanted to share with you our Christmas ornaments, I LOOOOVE Christmas time!!!
So here we go!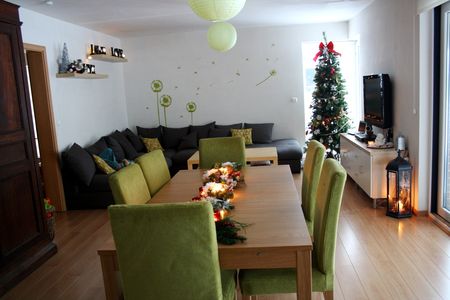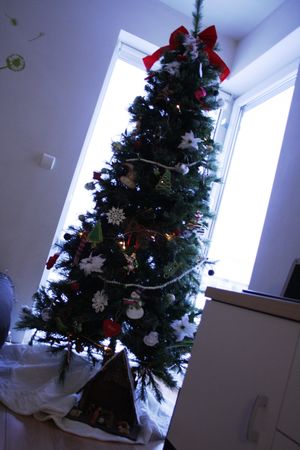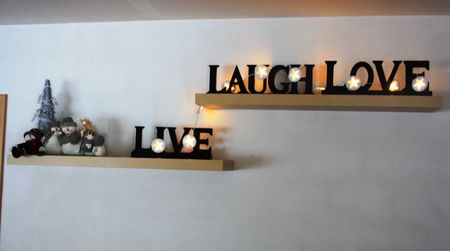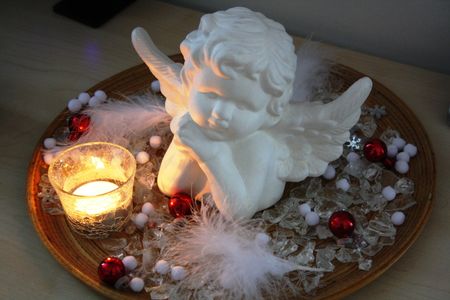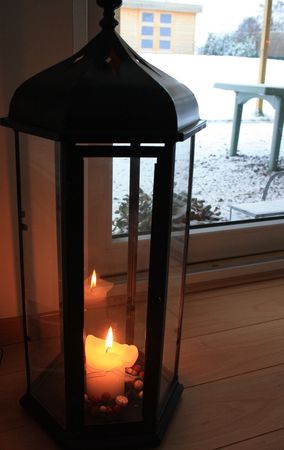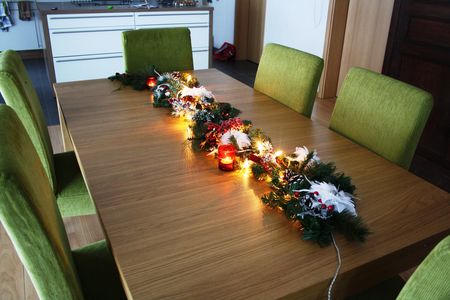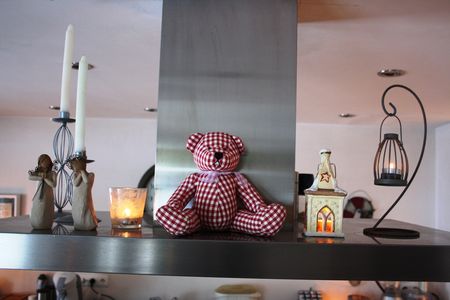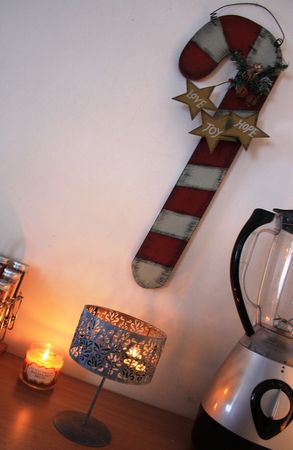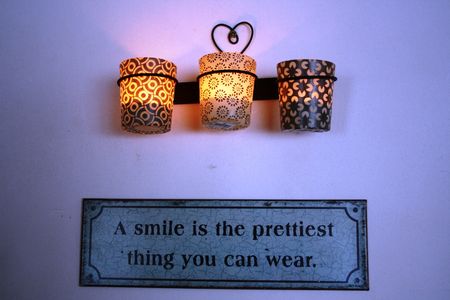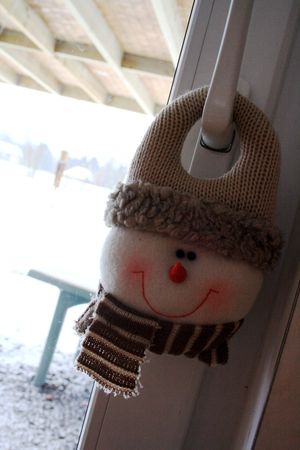 Maybe it will give you the envy to decorate yours!?
And here some of the pictures I took yesterday when the kids discovered their toys from Saint Nicholas!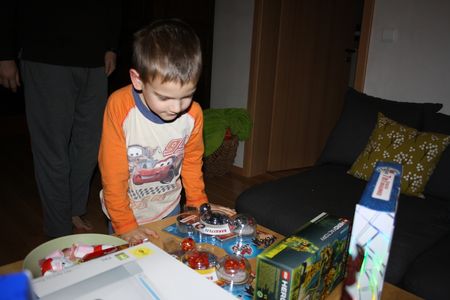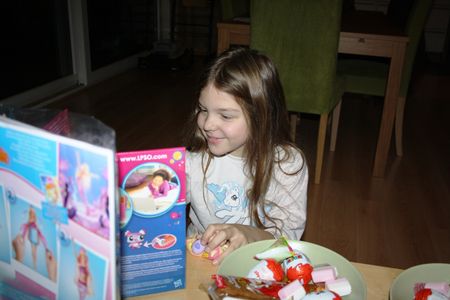 Hugo is so excited, his legs are just moving and moving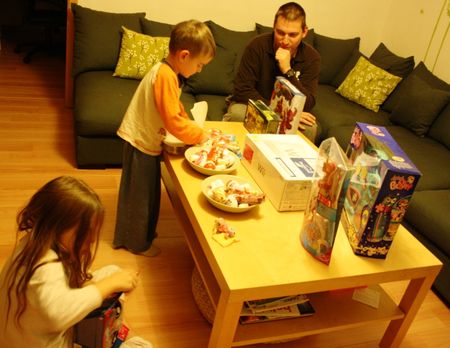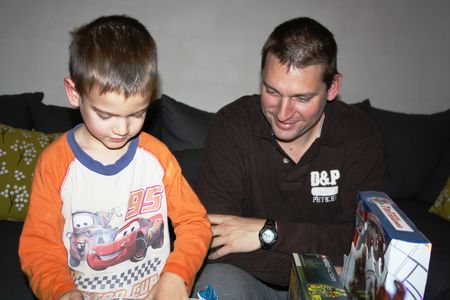 all what they dreamed to get and what they didn't expect anymore after several requests on last year ( for the Wii)
trying the Wii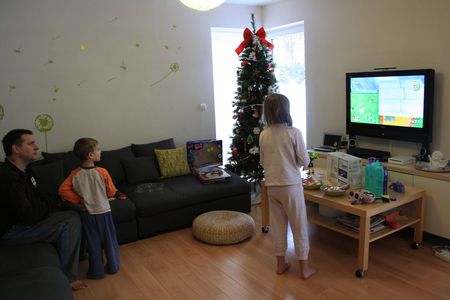 can't stop looking at his Bakugan during the breakfast!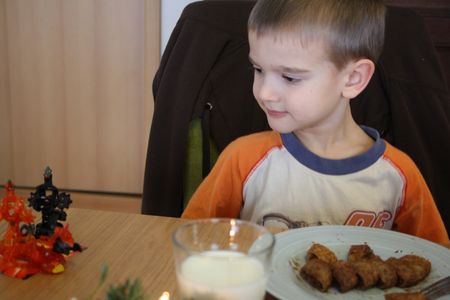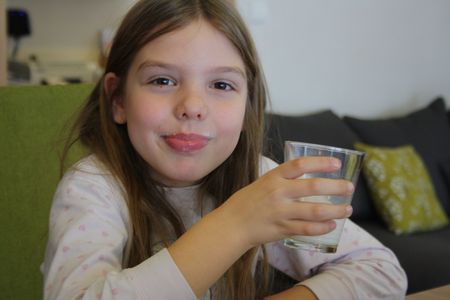 Have a wonderful end of week-end!
29 novembre 2010
Hi guys (and ladies of course!),
It's a long time that I want to share with you these pictures, but I had so many of them that I was already discouraged by selecting them and reducing them, loading them here, but I decided to go through and now it's done! Yeah!!!
Here are different pictures of what we did in October and November.
First lots of cocooning, hugs, kisses and fun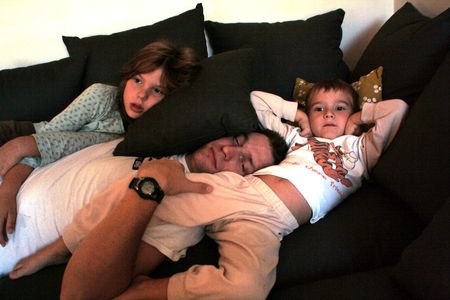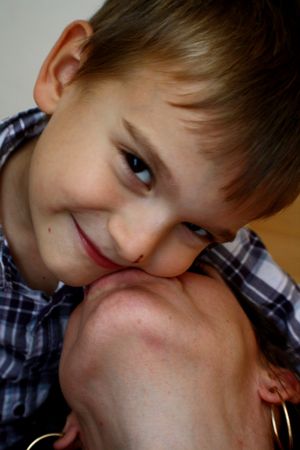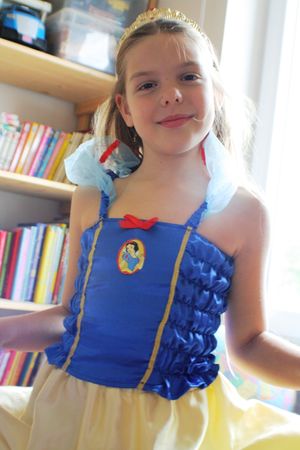 Second lots of walks into the nature
probably one of the last ones on this year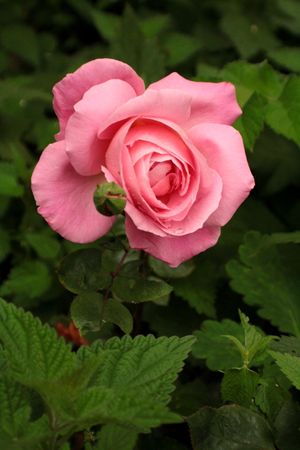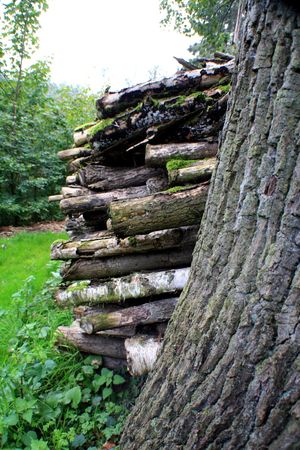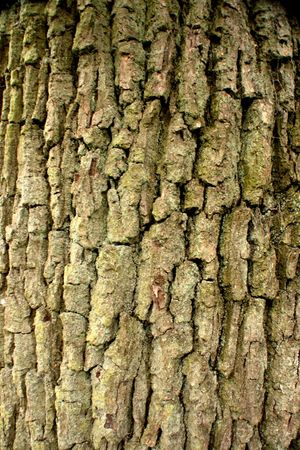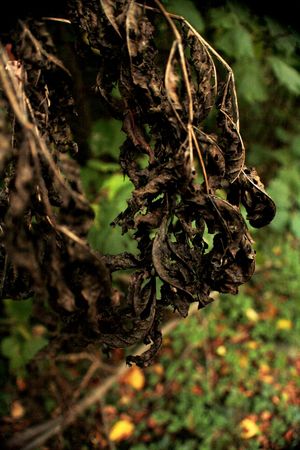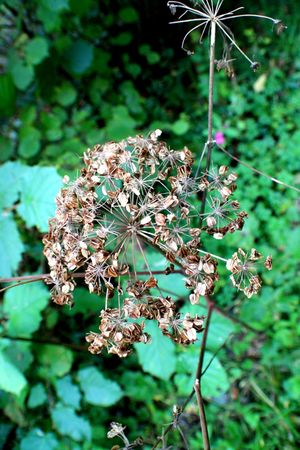 and when you ask for miracles, miracles happen... have you seen the little heart on its back?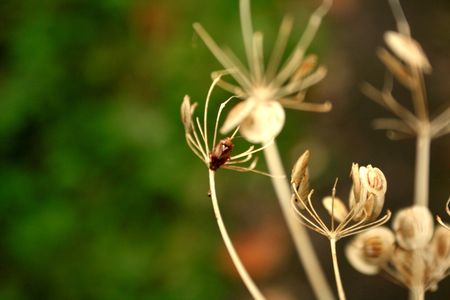 life and death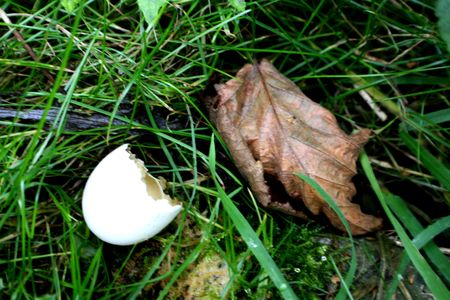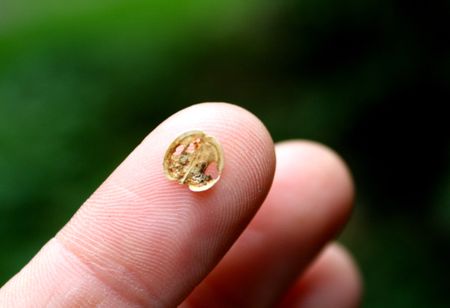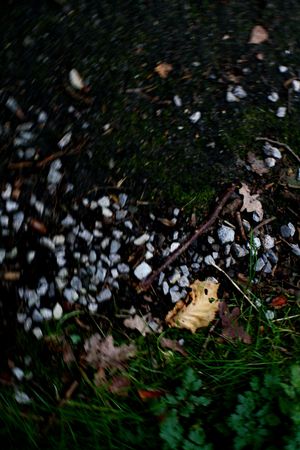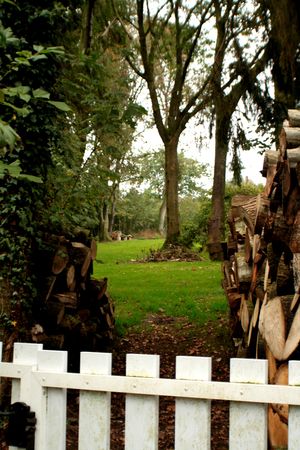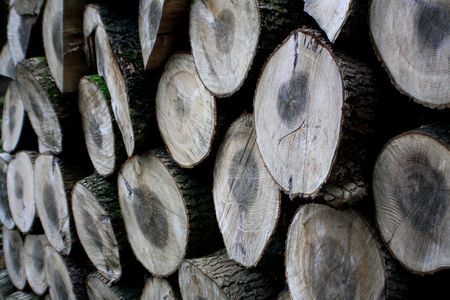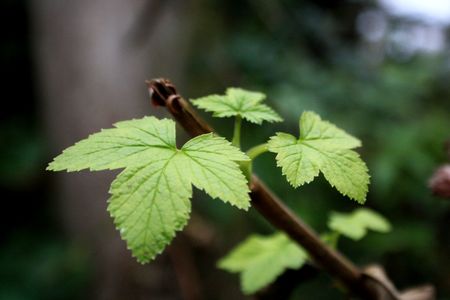 For Didier's birthday we did a mini-trip in France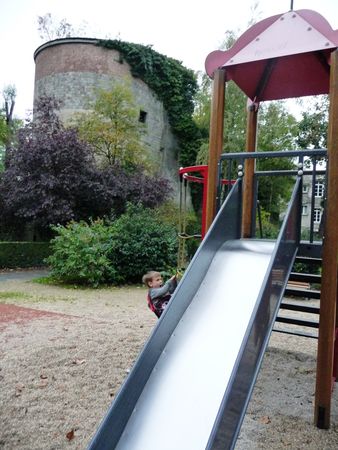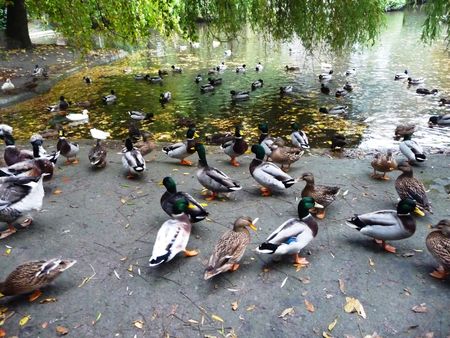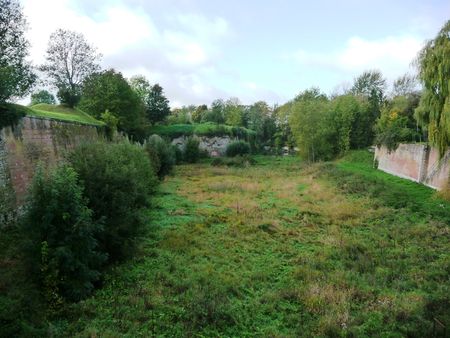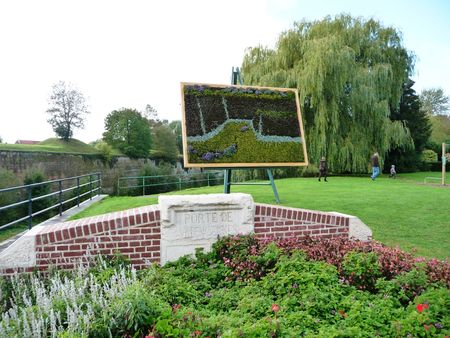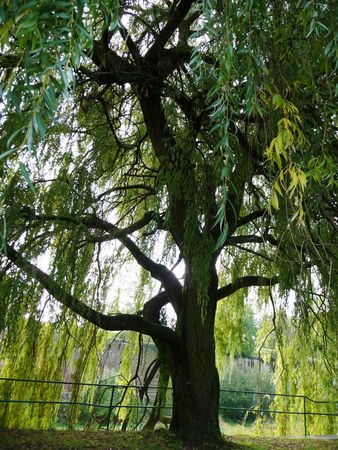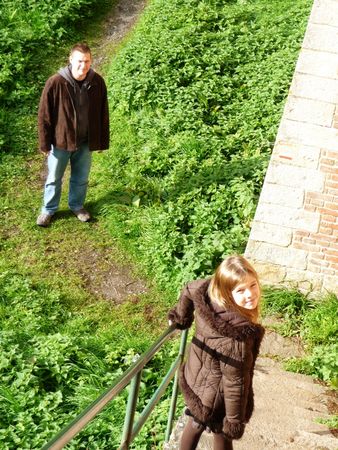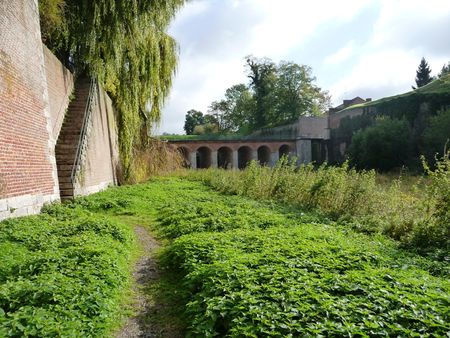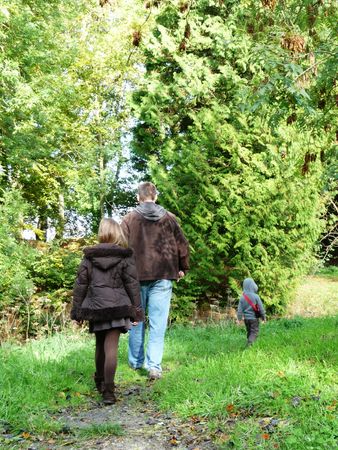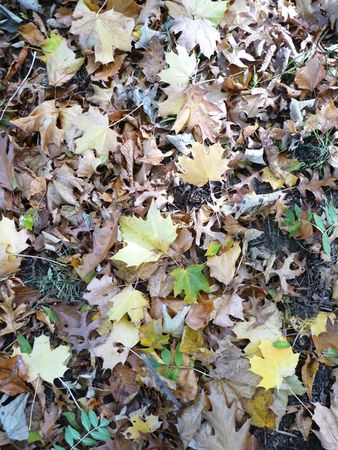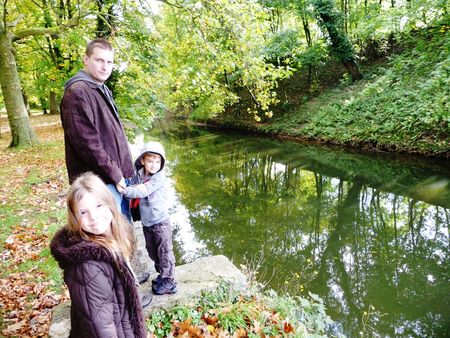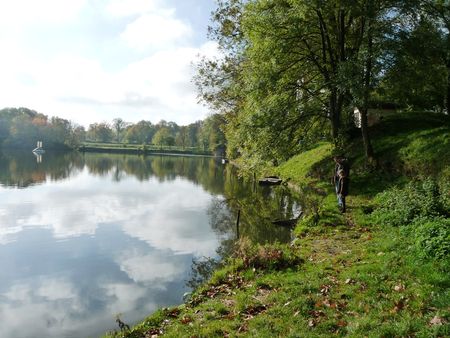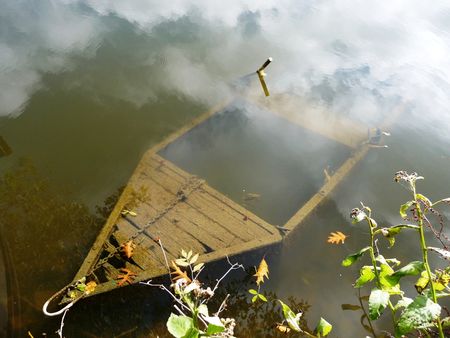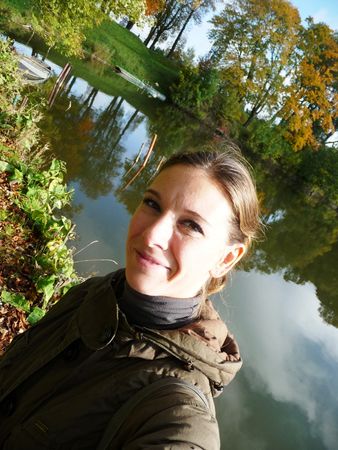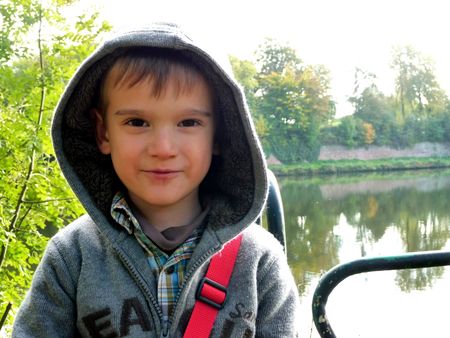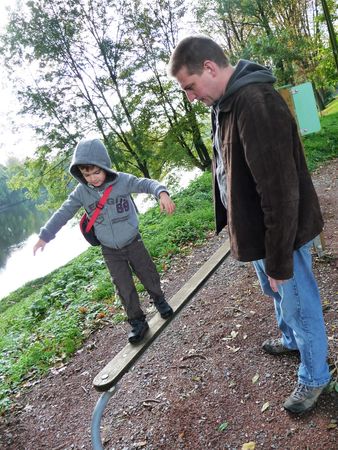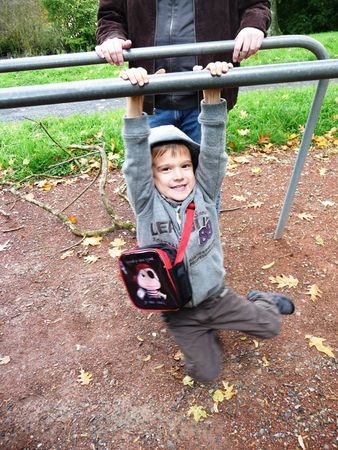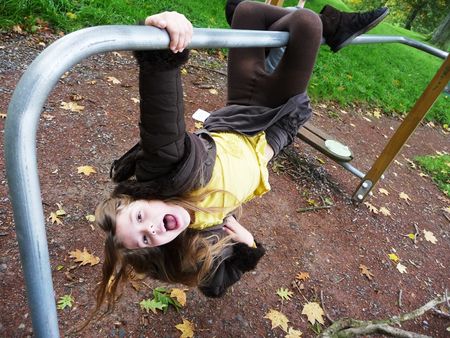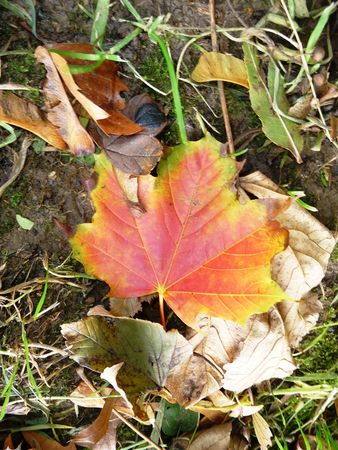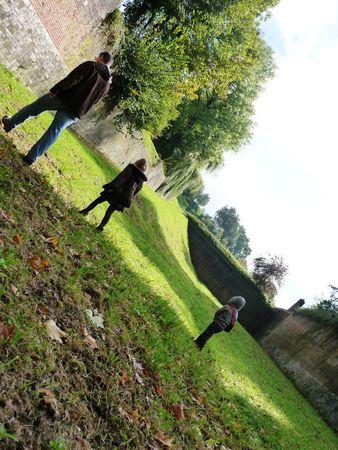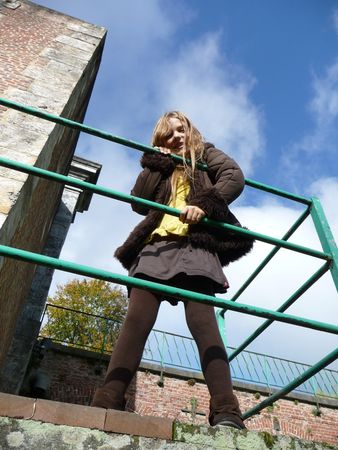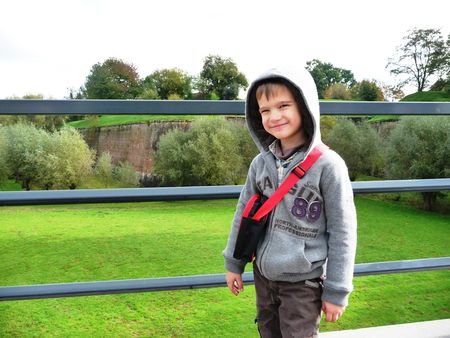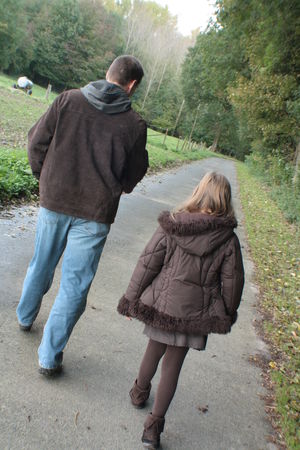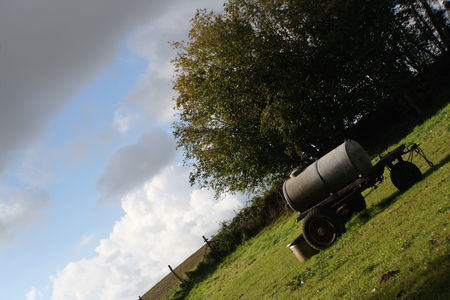 Another day, while Manon was visiting a friend of her, we decided to go for a walk just Didier, Hugo and I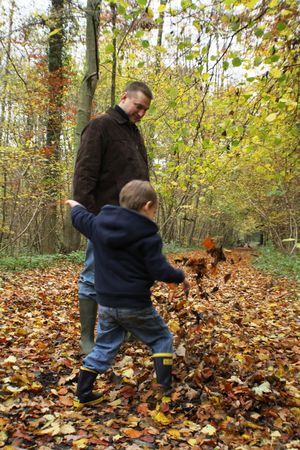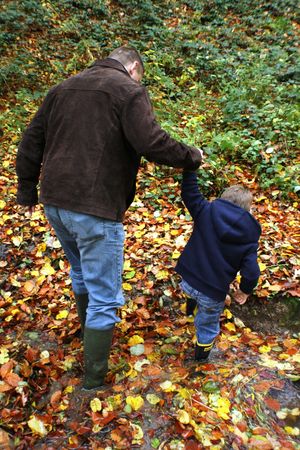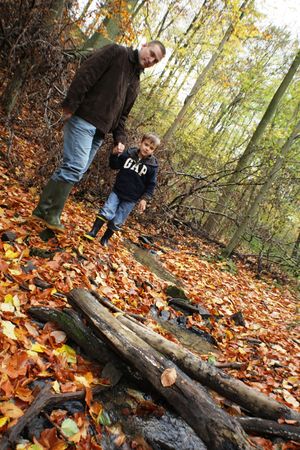 hiiiiii haaaaa!!!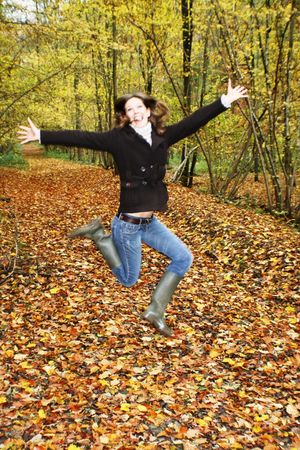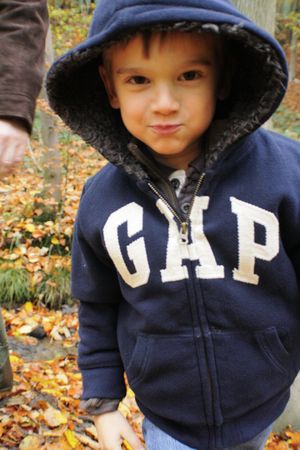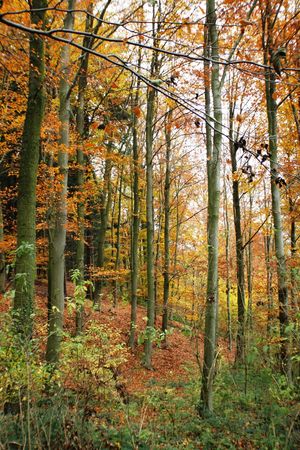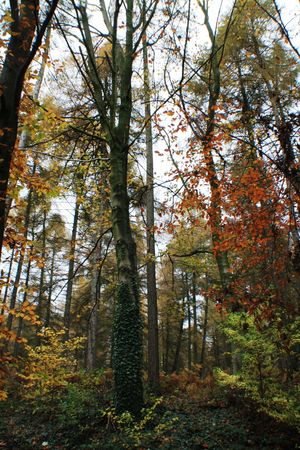 my two boys!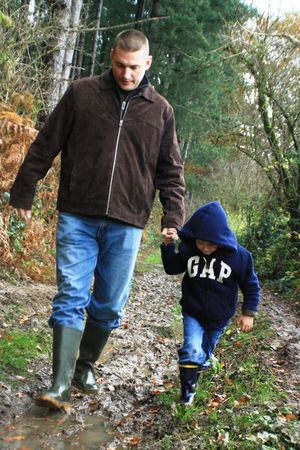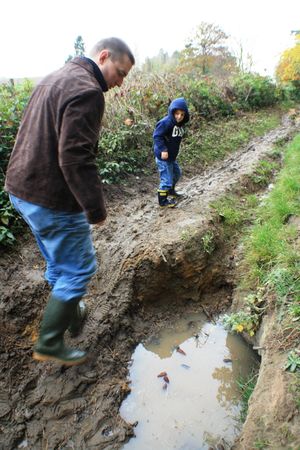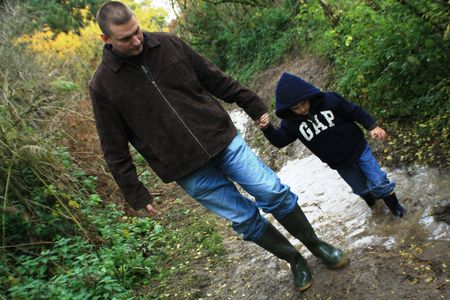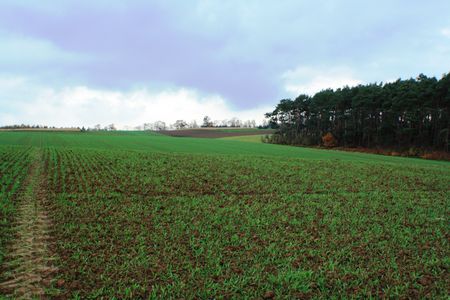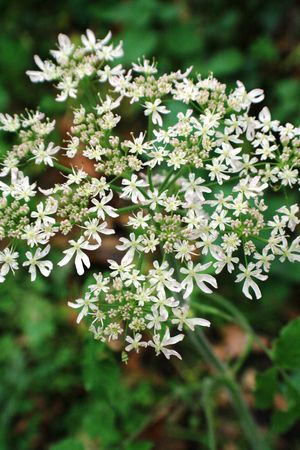 a small break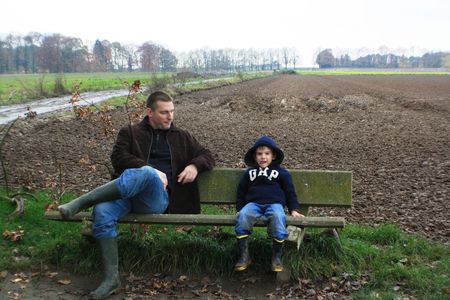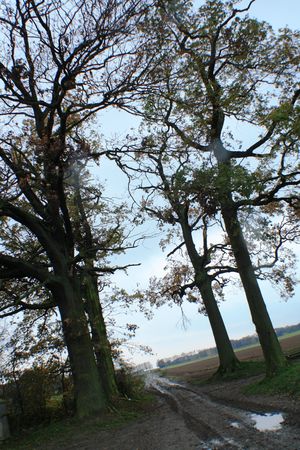 so much fun into the mud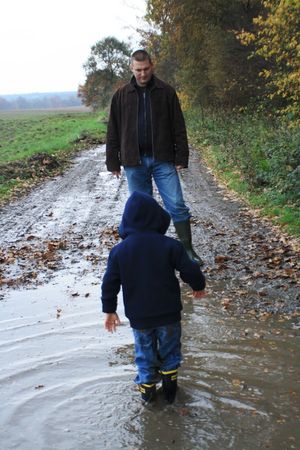 so nice colors
we picked lots of chesnuts and I cooked a delicious soup when back home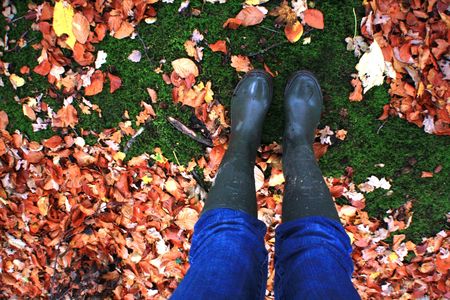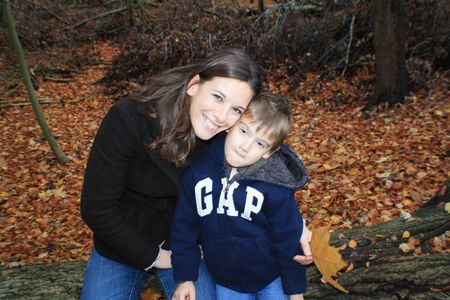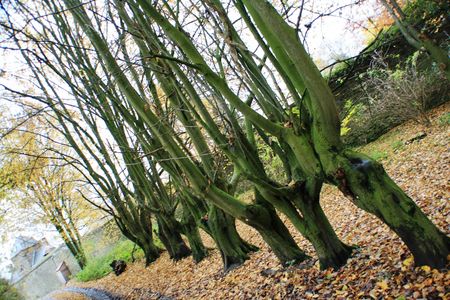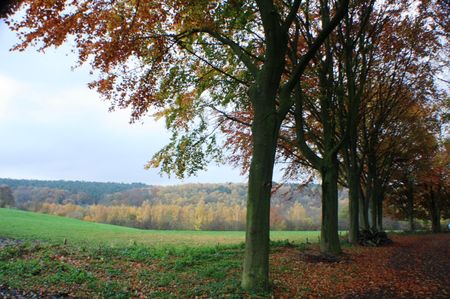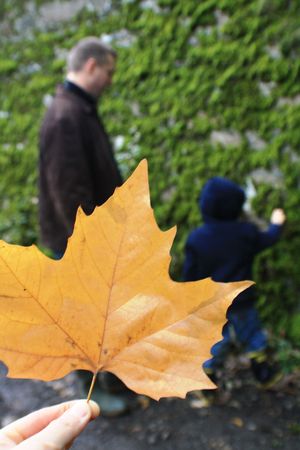 Third we spent time with family and friends
1 and 1/2 year without seeing his grandma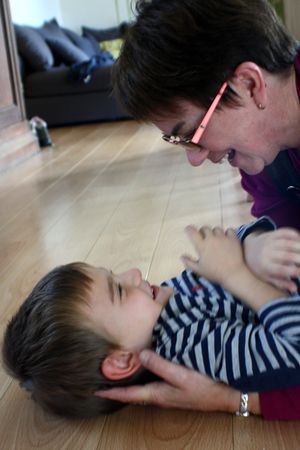 My lil'sis and I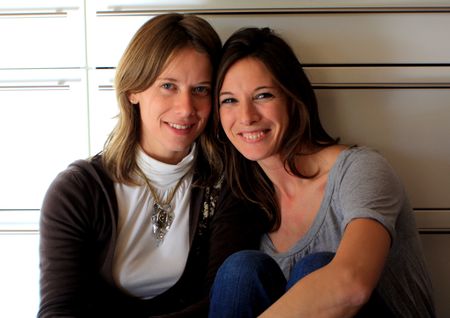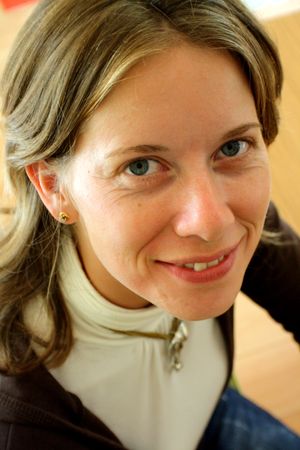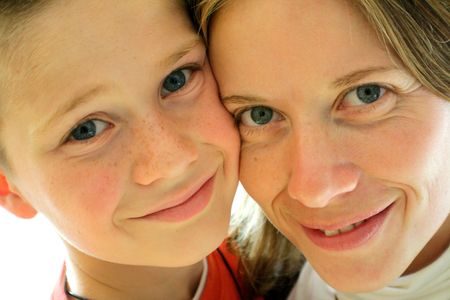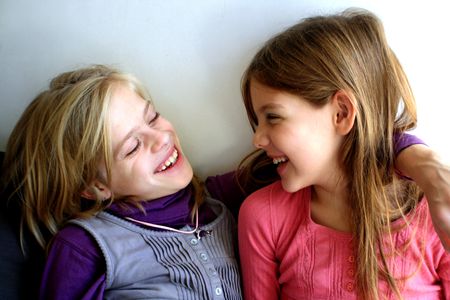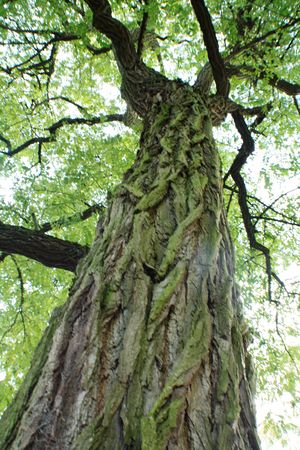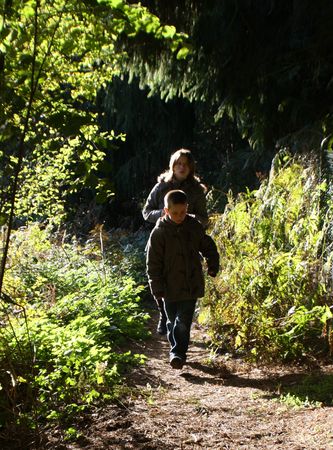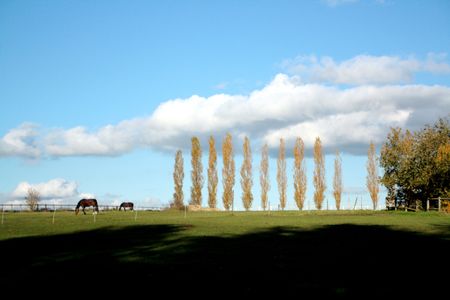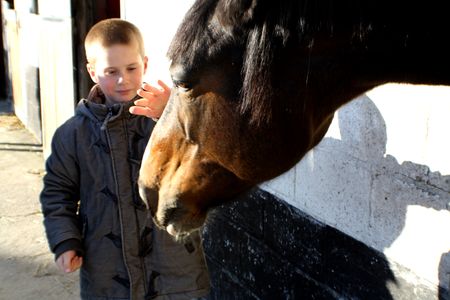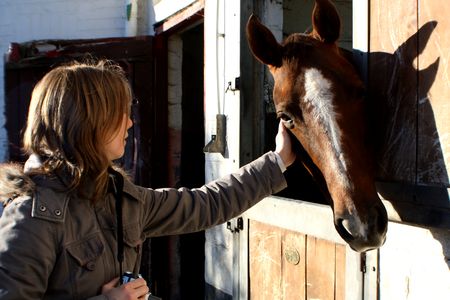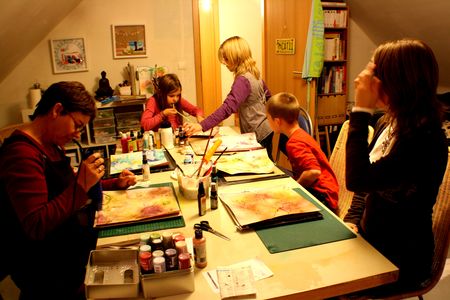 We celebrated Halloween together and we had sooo much fun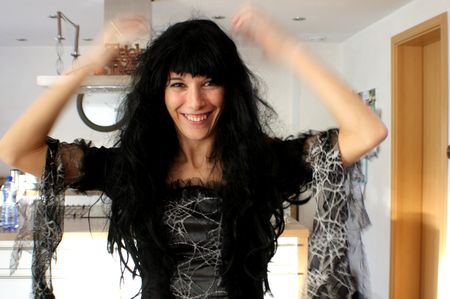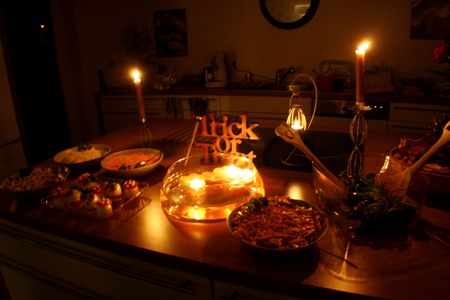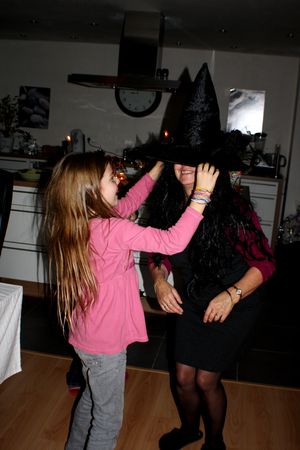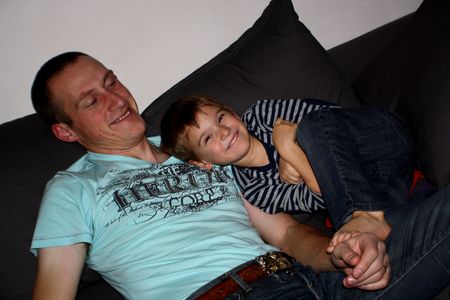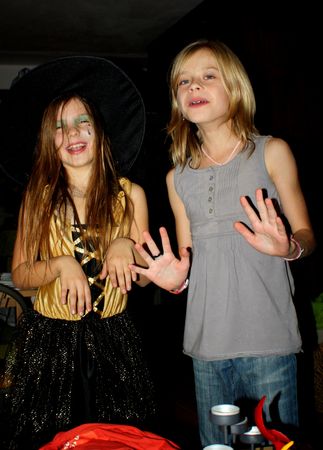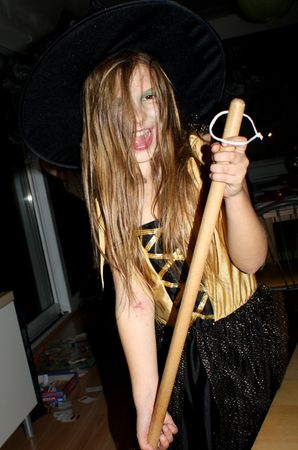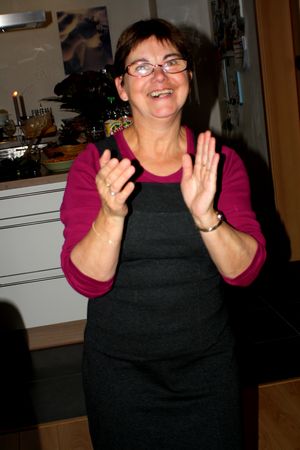 We got the visit of our French friends that we met in Alabama, Bertrand, Armelle and their 3 kids (thanks Bert for the great pictures!) and it was a great pleasure to welcome them in our house, we had a really good time with them.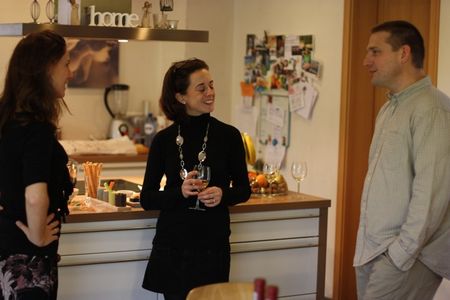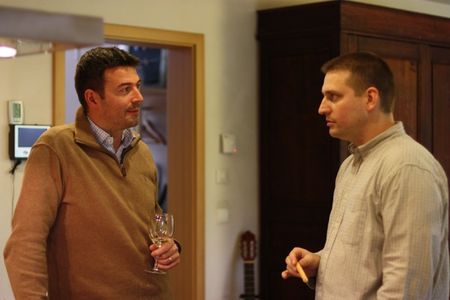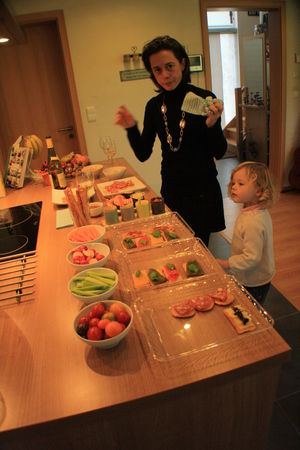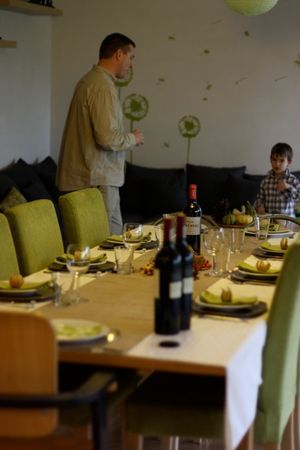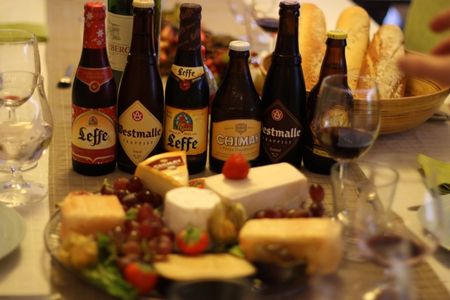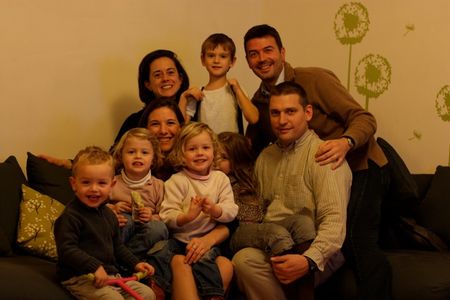 And 4th, I experience new things: I started to play guitar, I got a reiki session, and I boost my creativity lol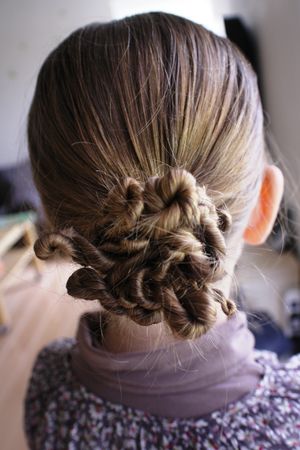 Well, a small resume of two busy months, in just one word: joy!
I wish you a good and happy day!
28 novembre 2010
Hi everybody,
Thank you so much for the nice wishes I got from you for my birthday!
The day after my birthday, we got the first flakes of snow in Belgium. It was some melting snow, so the day after there was nothing anymore. But what was our surprise when we arrived at the North Sea on this Friday! It was snowing there although not where we live, it's not usual on that way! Fortunately, a friend of mine warned me sothat I brought the ski suits, and fortunately 'cause it was a cold week-end!
Here are a few pictures of this great freezy family week-end, just the four of us, that Didier organized for my birthday! How lucky I am!
The beachwalk became like a skating rink, so slippery!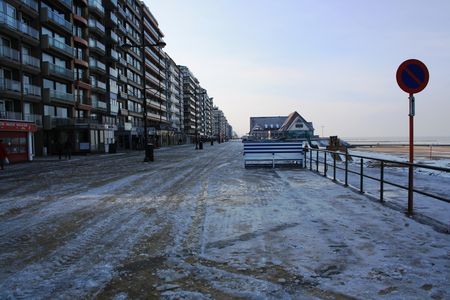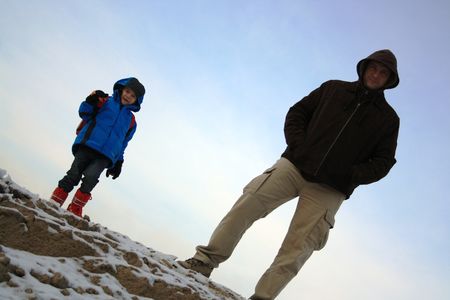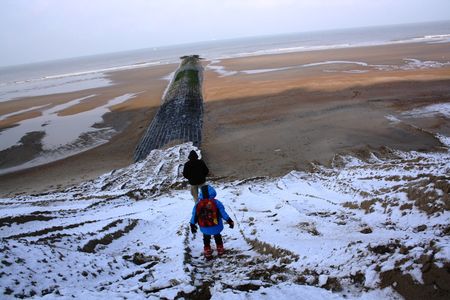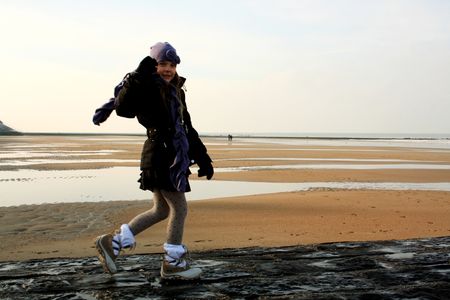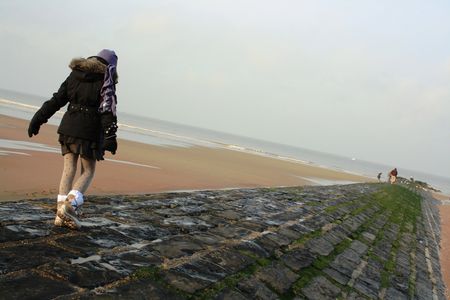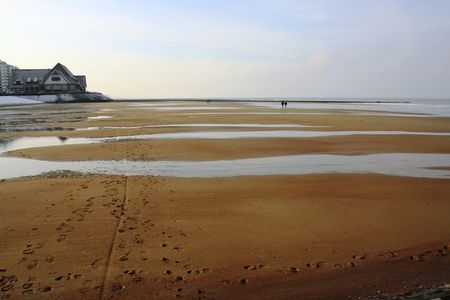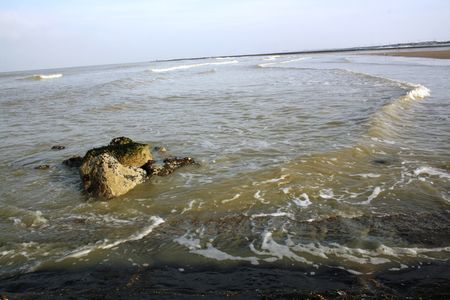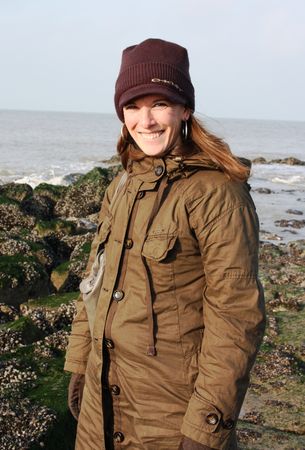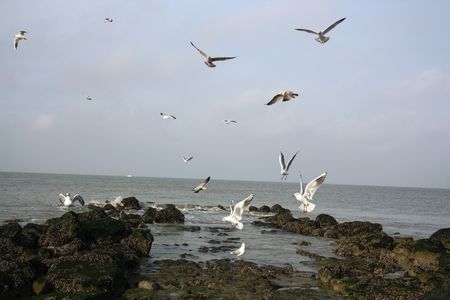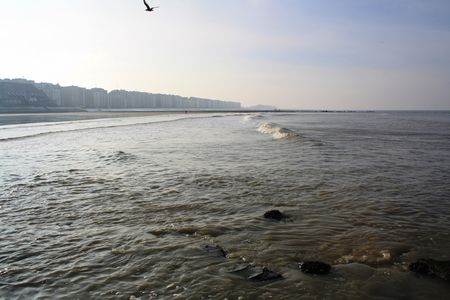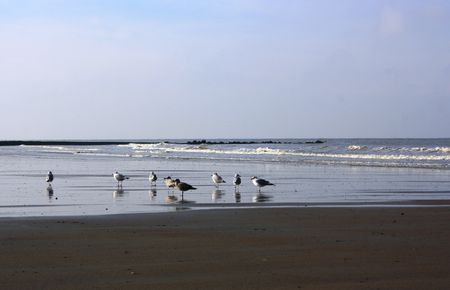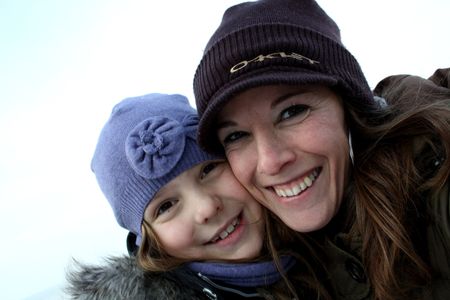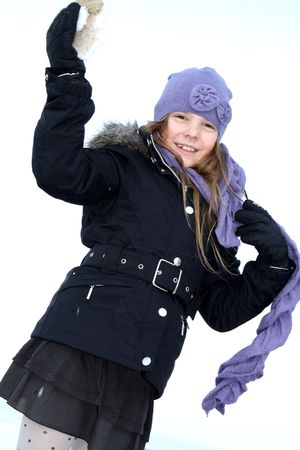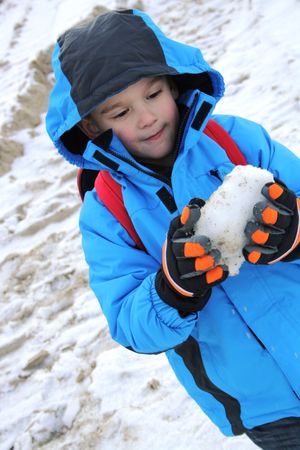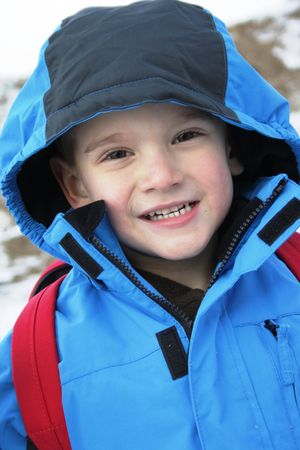 It's been a long time I haven't seen Manon like that, I mean with sparkles in her eyes! A few days ago she was able to say that she's felt deeply sad since we left the States, missing so much her friend Adrianna, and her classmates. I could feel this sadness but it was difficult for her to speak about it. I was so happy to see her enjoying life this week-end, like she used to do in the US.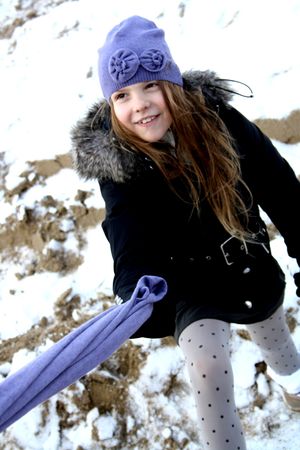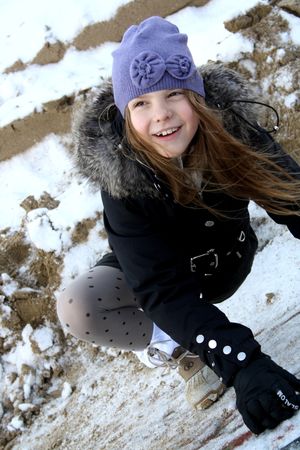 Kids activities were suggested at the hotel for this special week-end 'Saint Nicholas': crafts, movie, songs, play-doh, clown, pancakes, and activities with Saint Nicholas (we don't have Santa Claus in Belgium, but Saint Nicholas comes to bring toys and sweets for the kids)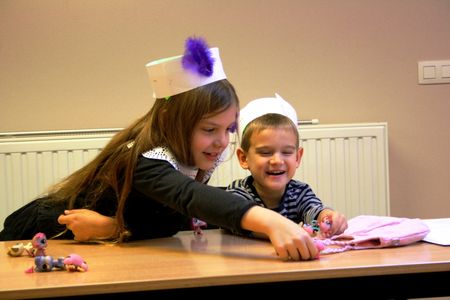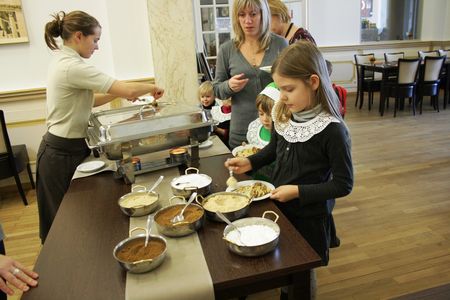 Here come the expected visitors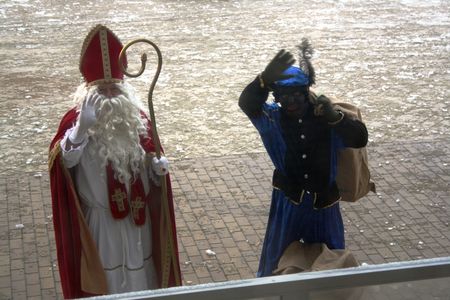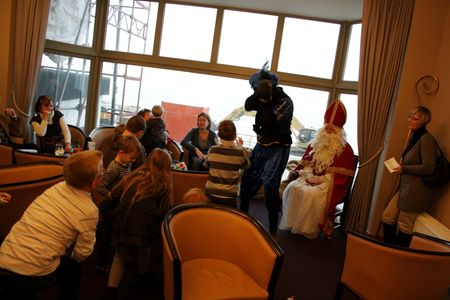 The kids even got a toy!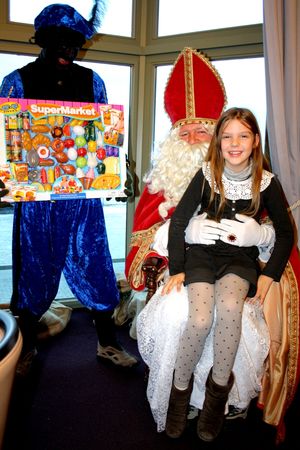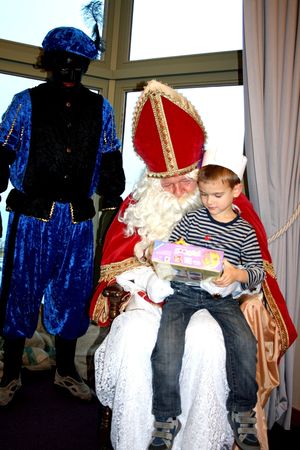 And today was a really cold day- we spent the day outside, enjoying the snow and ice at the beach, walking a lot, we visited our former neighbour (we lived at the North Sea 10 years ago), the kids experienced the tramway for the first time, we stopped in a restaurant- well Hugo was done at the end of the day! Back home, he had fever.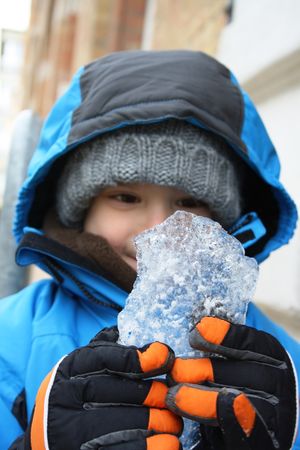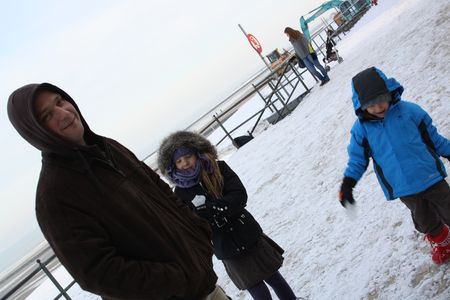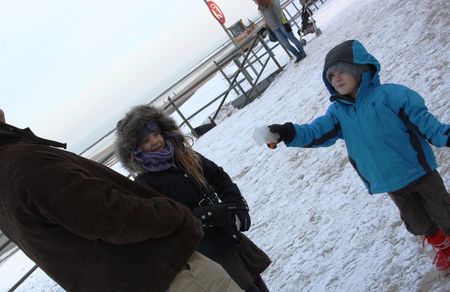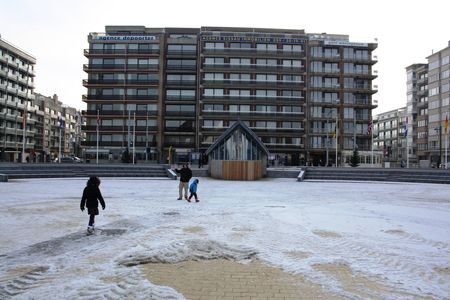 while waiting for the tramway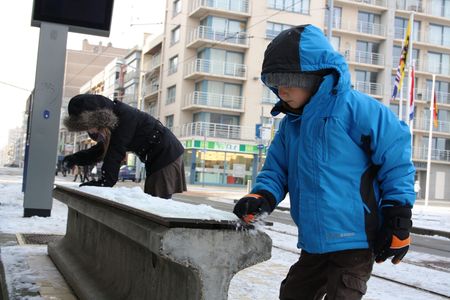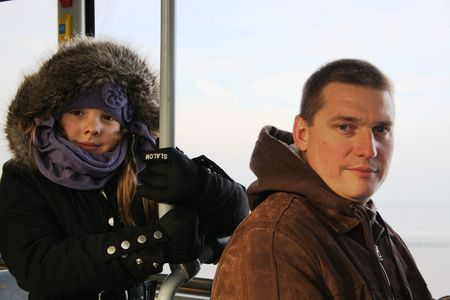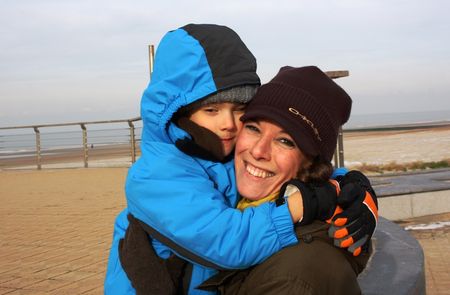 it reminds me this picture, taken in 2003, at the same place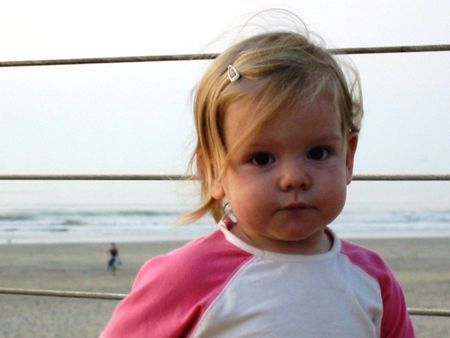 7 years later...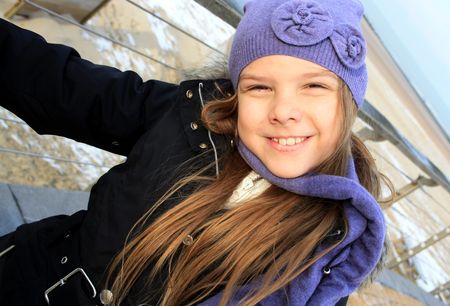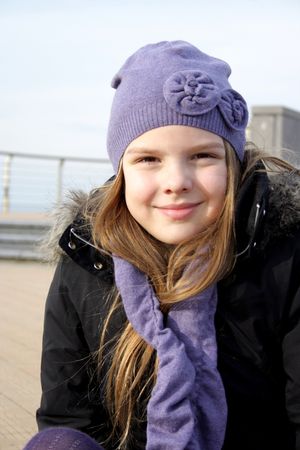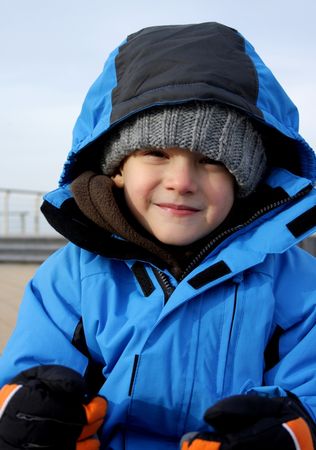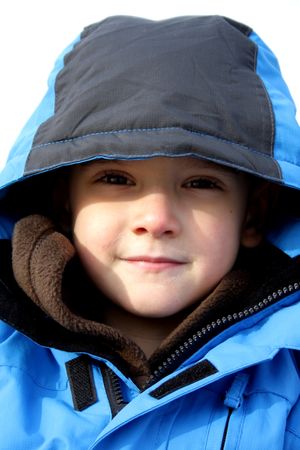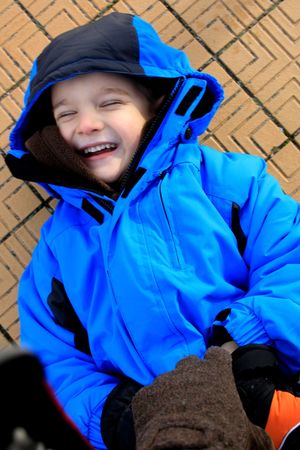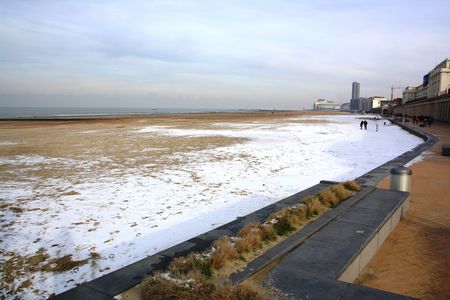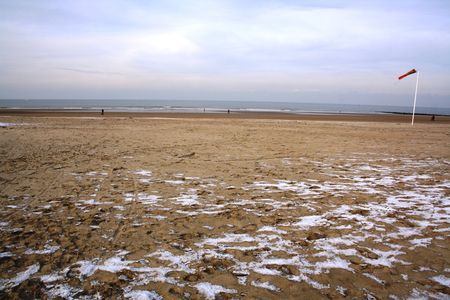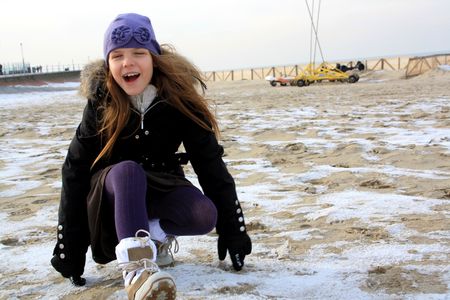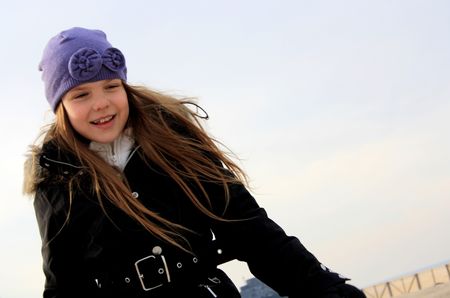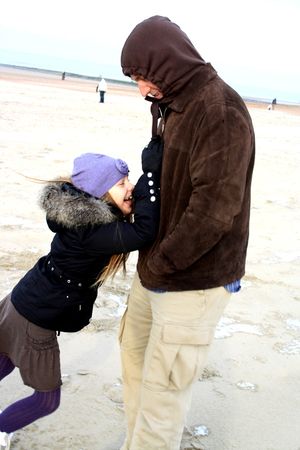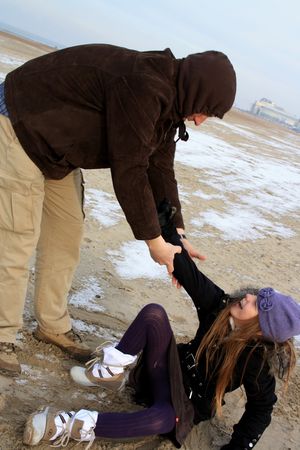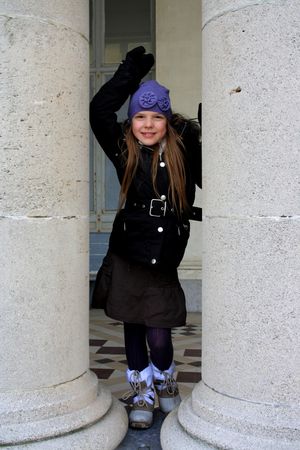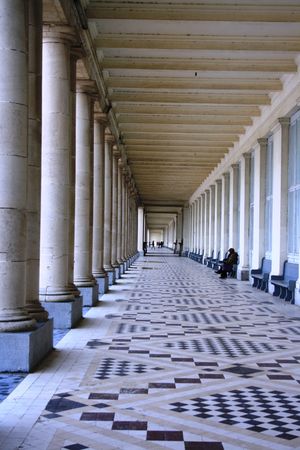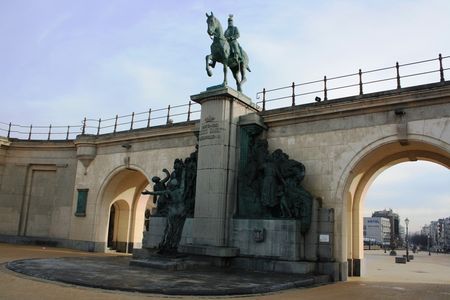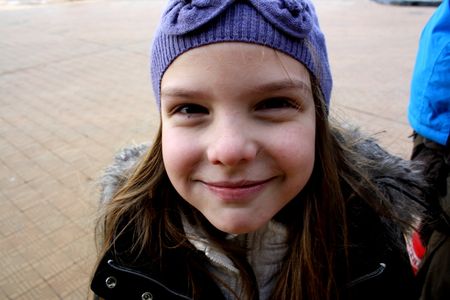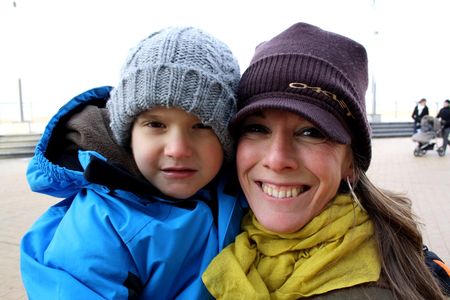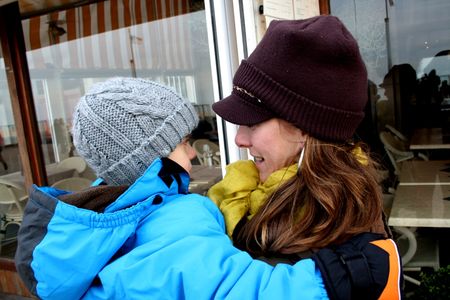 And on the way back home, I enjoyed the nice sunset reflecting on the snow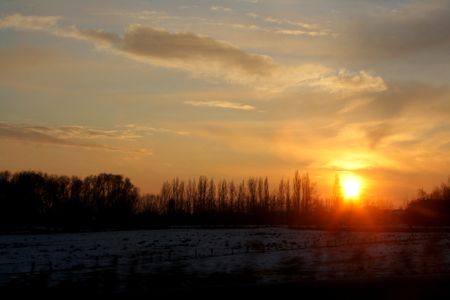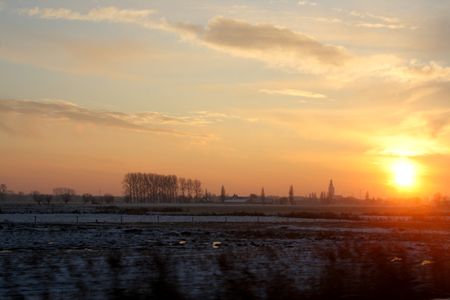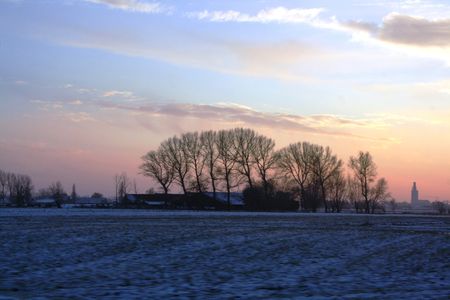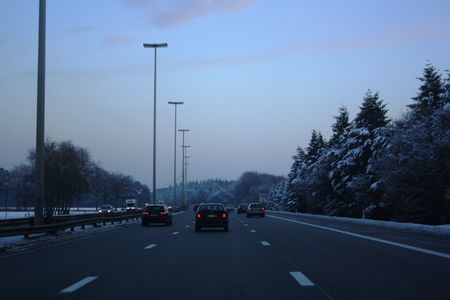 That's it for this time!
I'm coming soon with the pictures of the two last months! I'm late, but it's better than never!
Have a good week. And for the ones in Alabama, in Florida (hi Patty) or in Mexico (hi Daniela), enjoy the sun and the warmth!!!
24 novembre 2010
Hi everybody,
It's been a lonnnnnnng long time again, sorry for not having given news from me more often and I have no excuse, I'm really really fine, and I just take lots of time taking care of myself: lots of walks in the woods, relaxation, art, friendships, reading, games with the kids, I started to play guitar, and I'm thinking of a new project that I dream to realise.
Today is my birthday: my 35th birthday, WOW, 35 candles on the cake wich is in the oven right now, I didn't think about how to put them on the cake yet, but 35 years old give me the feeling to experience what is wellness, what is happiness, I'm really happy in my life, really blessed to get all these presents in my life: great family, really good friends, health, a nice place to live, security, and lots of other things.
On this morning, I got a paper in my mail box inviting me to get a pack. I wondered what it could be, I didn't order anything, and what a good surprise when I read on the box that is was from my friend Lena!!!
Thank you sooooo much, my sweetie! And you know how it's just amazing that I got this package from the States just the day of my birthday!!! Well, you will think that it's just a detail but for me, it's not hazardous! Lena and I are connected!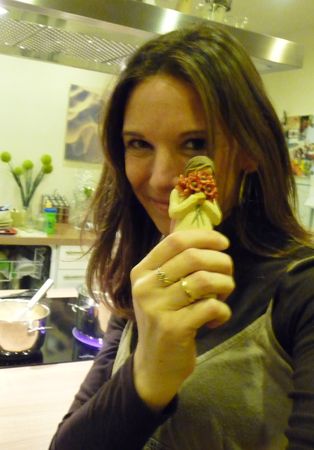 A third angel who will go to my scraproom to give me good inspiration ;-)
Lena, I'm soooo blessed to have you as my friend too! Thank you so much.
Well, I give you more news on a next time,
My dinner is ready now! Have a good evening and I hope my birthday will give you the spirit to celebrate your life too!
03 novembre 2010
Hi,
We got a really bad new yesterday, concerning our Romanian friend Laurentiu who studied with Didier in Alabama. He crashed with his aircraft, and the worst happened! That's an article I found on the Internet, in French.
[Crash] Deux pilotes roumains tués dans le crash de leur MiG-21
Le 1 novembre 2010 par Gaëtan
Un avion militaire de type MiG-21 s'est écrasé aujourd'hui dans le centre de la Roumanie, tuant les deux pilotes à bord, a fait savoir le ministère de la Défense.
L'appareil appartenant à une base aérienne de Campia Turzii (Transylvanie) s'est écrasé à proximité de l'aérodrome, alors qu'il s'apprêtait à atterrir, a précisé le ministère. L'avion « effectuait une mission de recherche météo afin de préparer des vols d'instruction« , a-t-on ajouté de même source. Selon des témoins, le jet s'est écrasé dans un arbre et a percuté une clôture avant de casser en morceaux.
Le ministère de la Défense a précise que l'une des victimes était Laurentiu Chirita, l'un des pilotes de chasse les plus expérimentés du pays. Il a pris part à des missions internationales, en Suède, en Italie et aux États-Unis. En 2007, il a dirigé une mission roumaine dans les pays baltes et a reçu une médaille par la force aérienne lituanienne. L'autre pilote était Sorin Avram qui avait 1.300 heures de vol, dont 900 sur MiG.
Au cours de ces 20 dernières années, un total de 17 MiG-21 de fabrication russe ont été détruits pars accident en Roumanie. Le ministre de la Défense Gabriel Oprea a voulu remplacer les MiG-21 vieillissants par des F-16 d'occasion, mais les autorités du pays, embourbé dans la récession, ont décidé qu'elles ne pouvaient pas se le permettre.
Le ministère de la Défense a déclaré qu'une enquête était en cours sur les causes de l'accident.
I'm in thoughts with my friend Claudia and their son, with Laurentiu's family, for who I can imagine it's a real nightmare.
I hope they will find the strenght to go through. I send them all my sympathy.
Here are some pictures with him: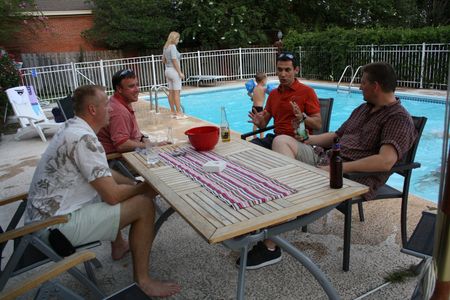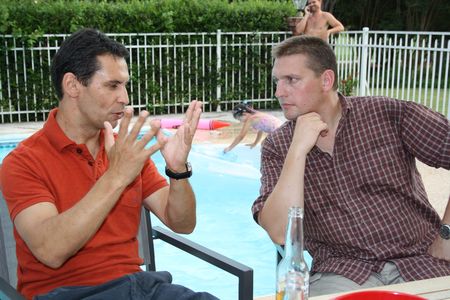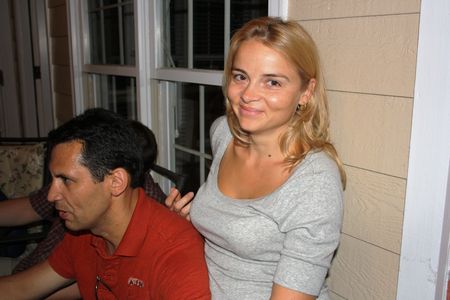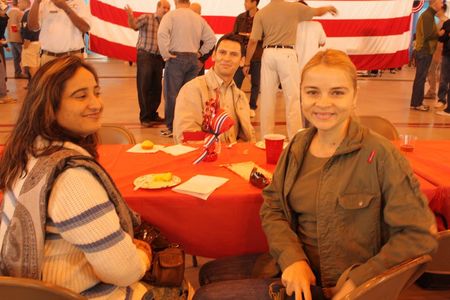 on last May at the graduation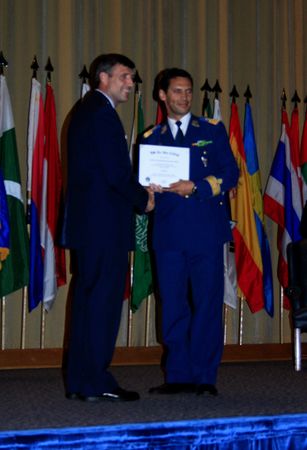 Good bye, buddy, you are such a great guy!
04 octobre 2010
Hey y'all ;-)
I'm back with a few pictures from the last weeks, the weather is nice for the moment, we enjoy it knowing that it won't last! Fall is coming, and mornings are getting colder and colder.
I spend time relaxing in my settled and cosy house, walking in the countryside and woods, enjoying what nature offers me, and enjoying sharing moments with my family and friends, well, I really enjoy my life!
Here with a good friend of mine, Corinne, and her family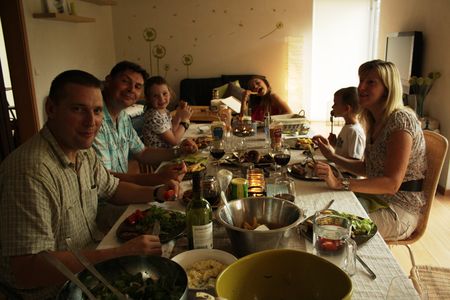 with my friend Carole who comes to visit me almost every week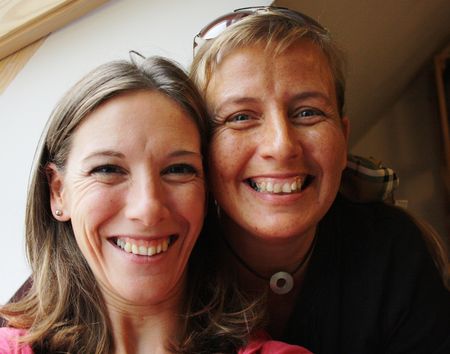 visiting another friend (and Carole is there too)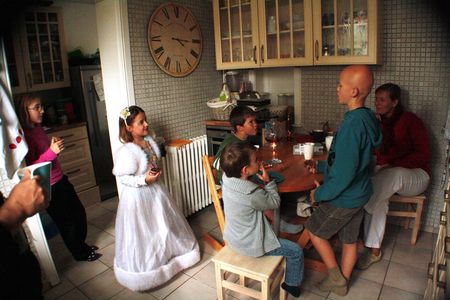 Some of Didier's friends came for a dinner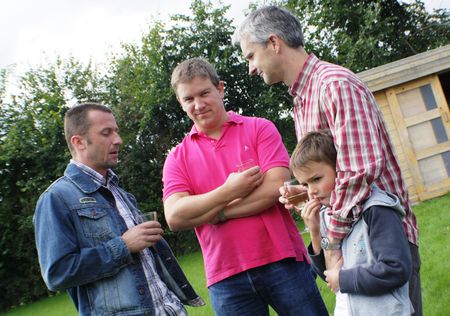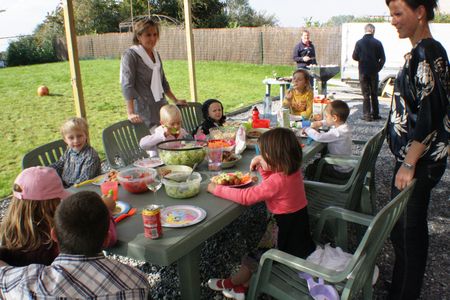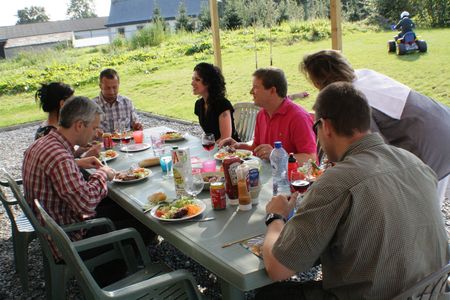 our nephew's birthday - here with his Godmother and Godfather (Didier)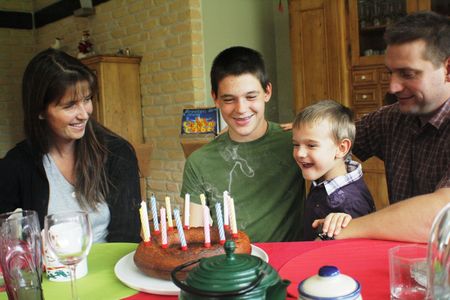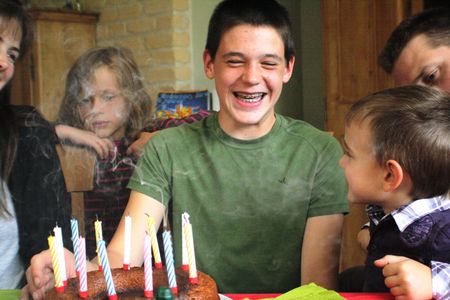 Guillaume and Hugo have a great relashionship as cousins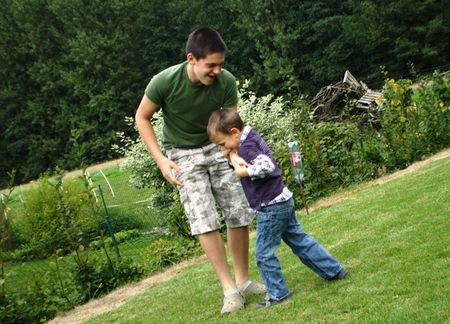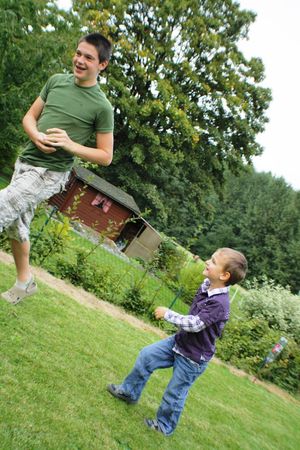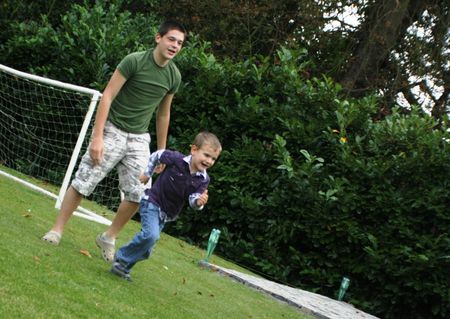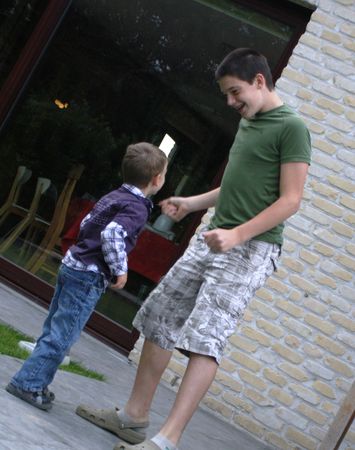 Manon spent time with her cousin Mathilde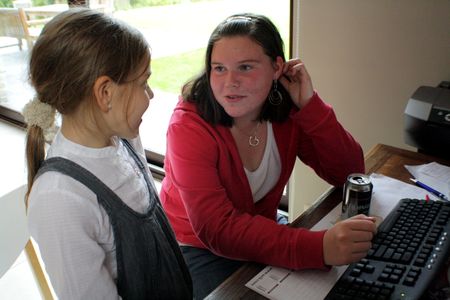 the 3 siblings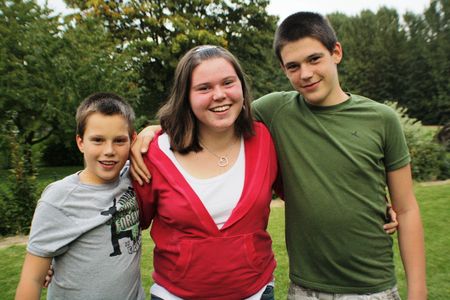 My mom in law and Martin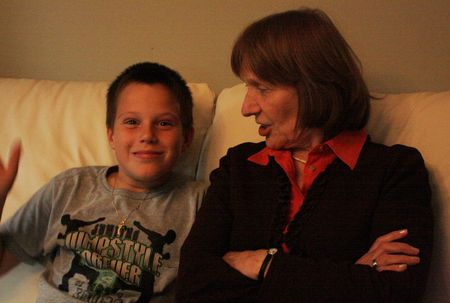 and with a part of her grandchildren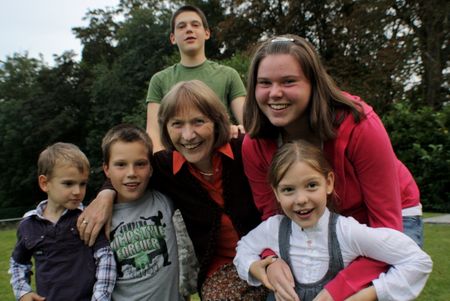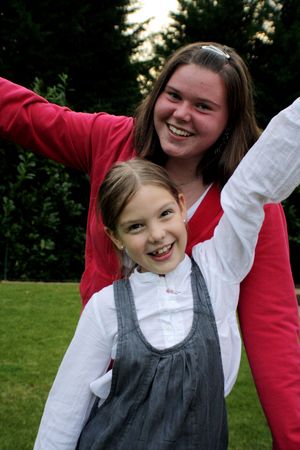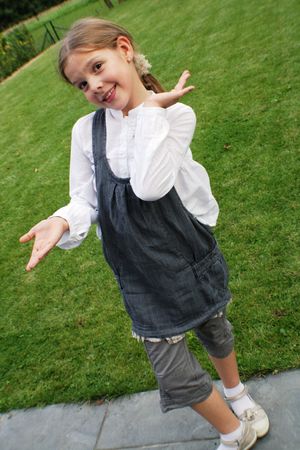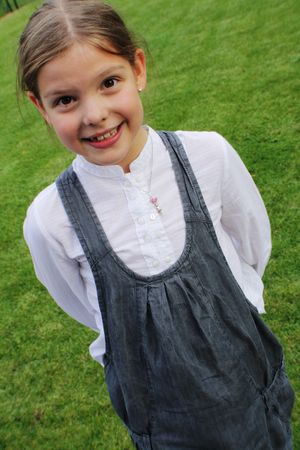 Another day during a walk in the woods close to our house
itsy bitsy spider herself!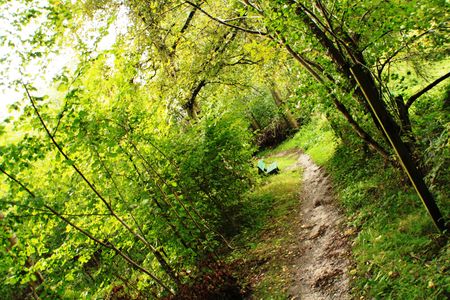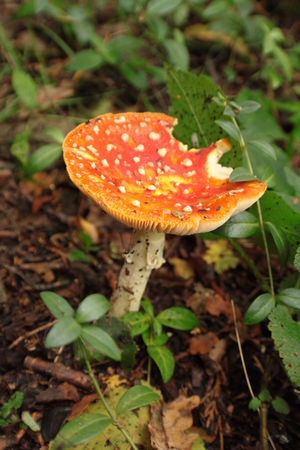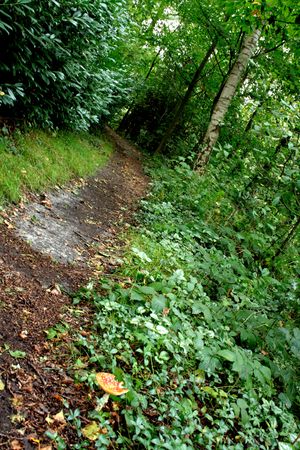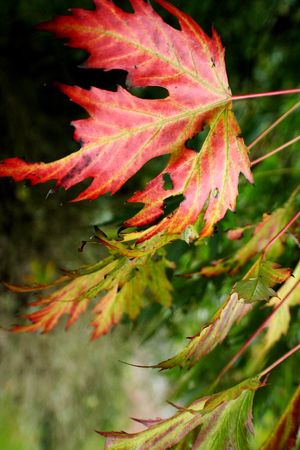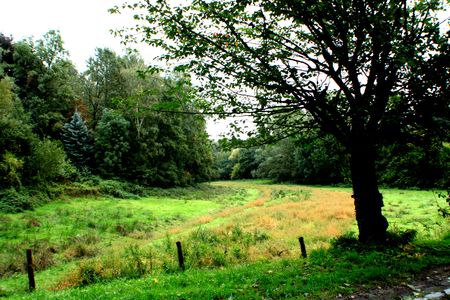 and two of my neighbours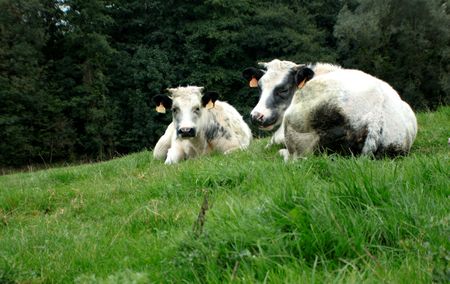 Yesterday morning Manon was invited to a birthday party (a friend from her classroom)- they rode on poney's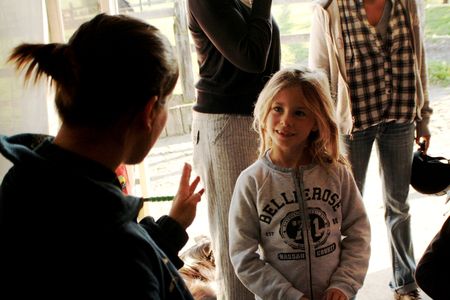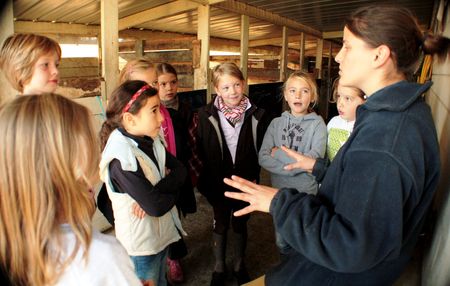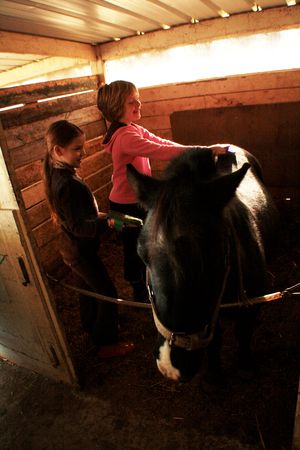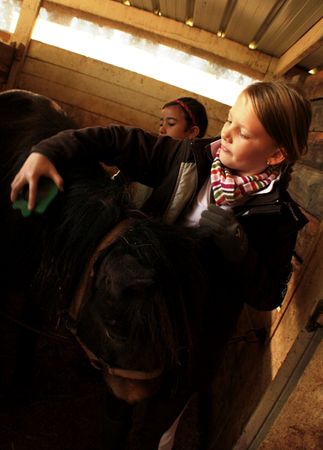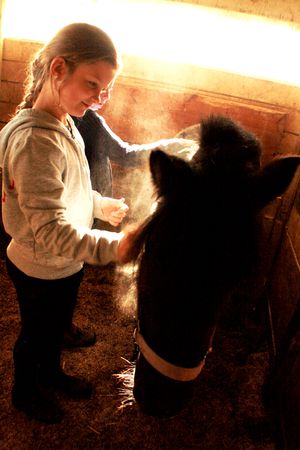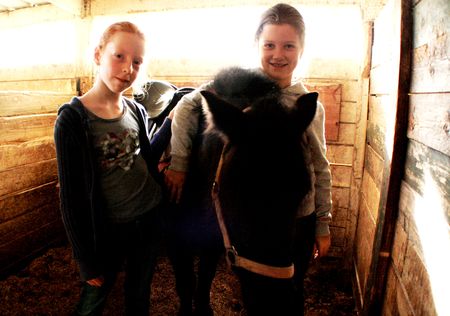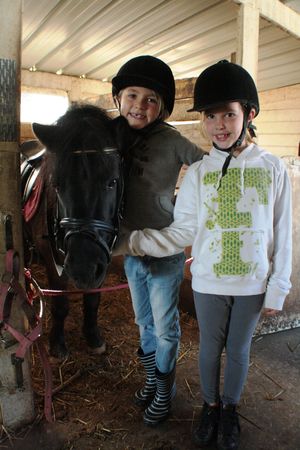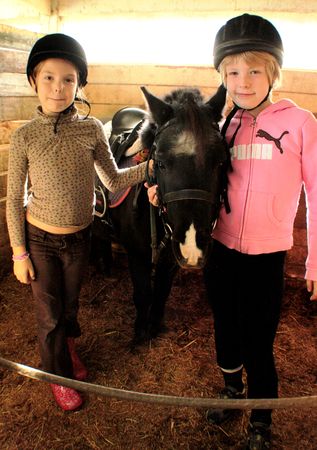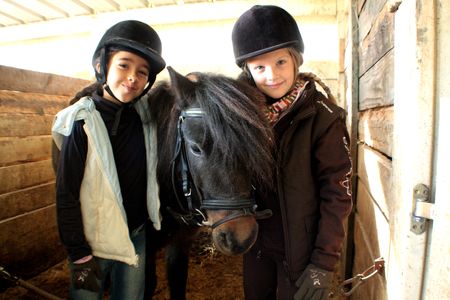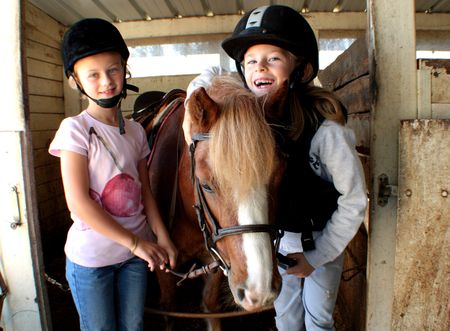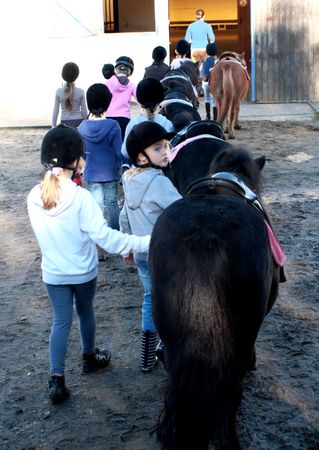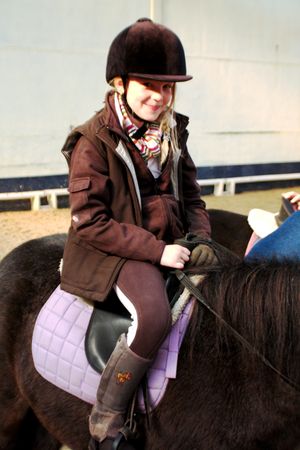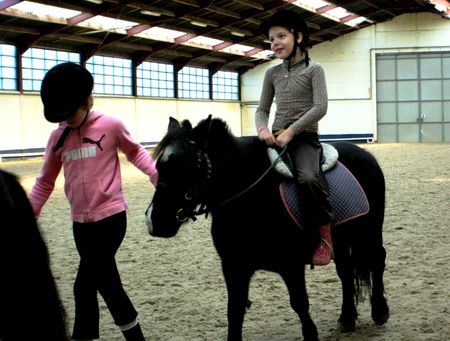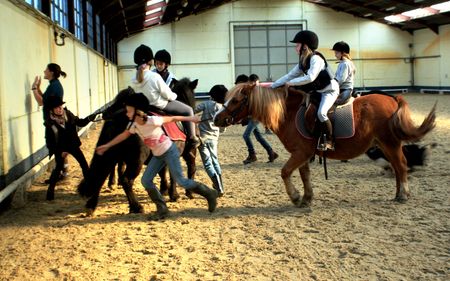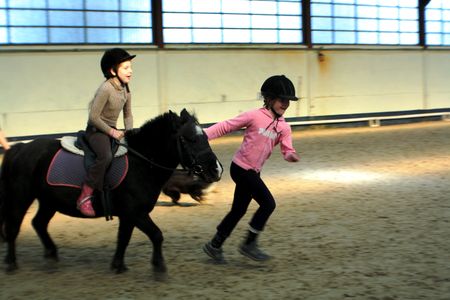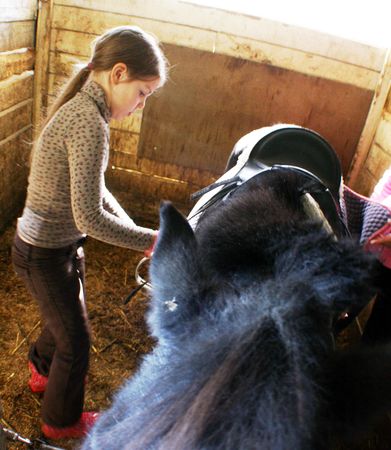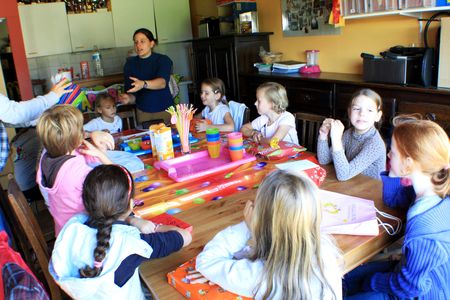 And we spent the afternoon oustide with our neighbour, we went for a long walk in the nature and in the village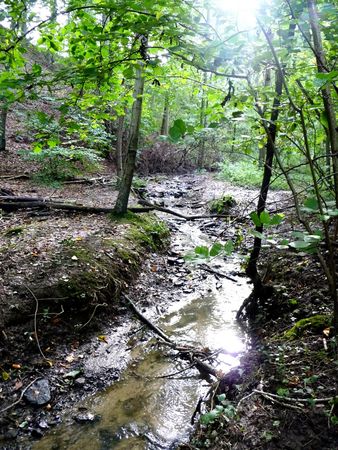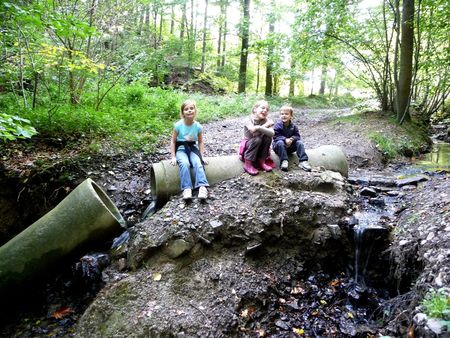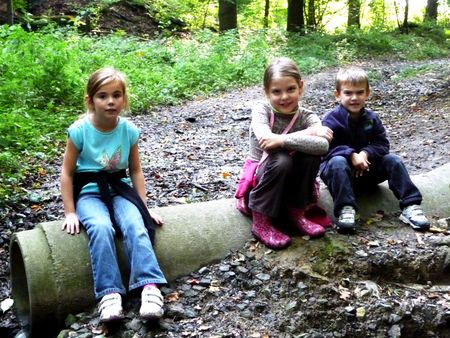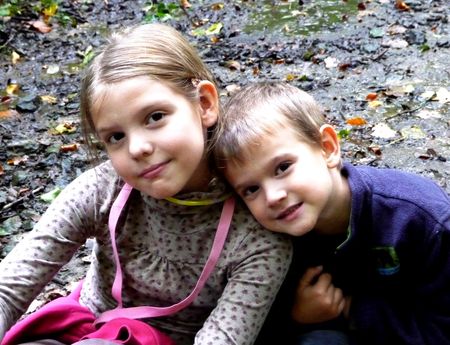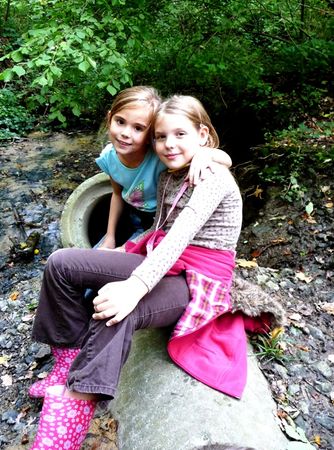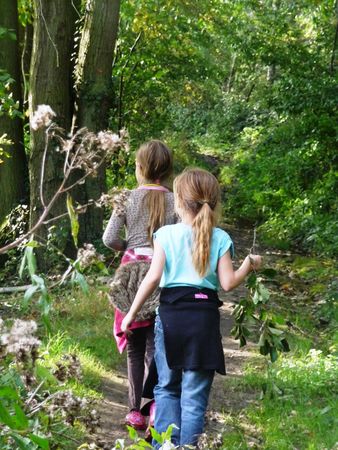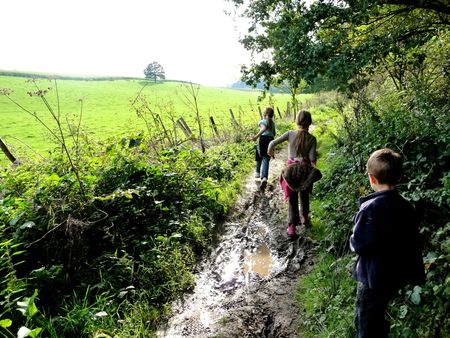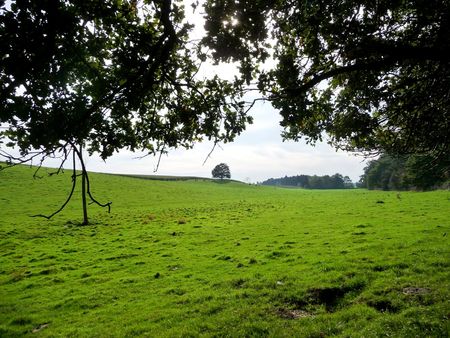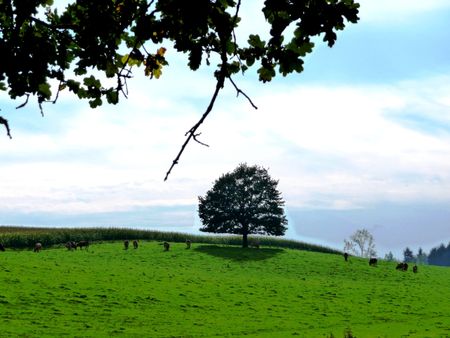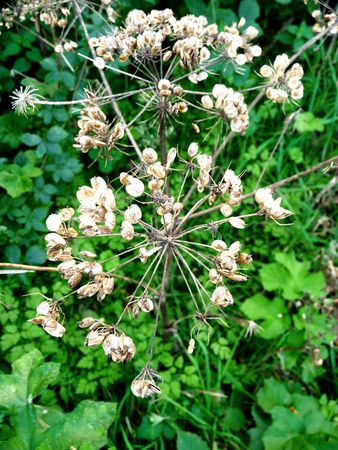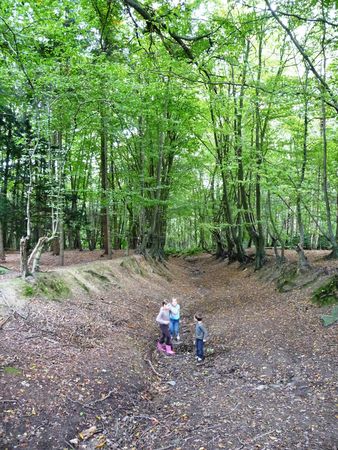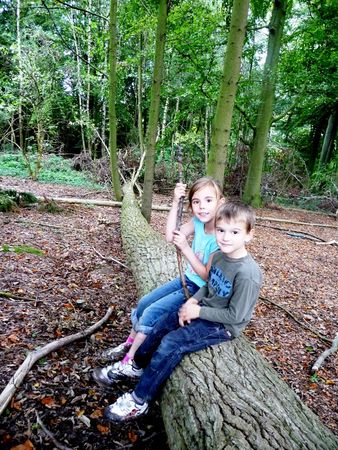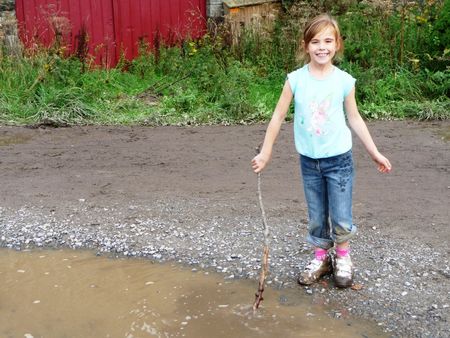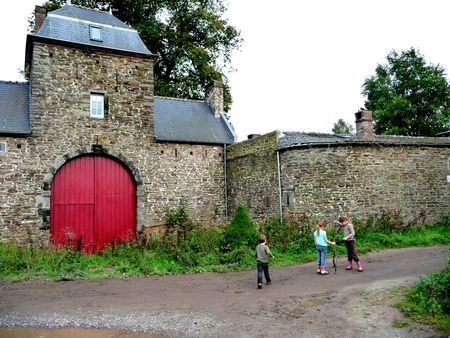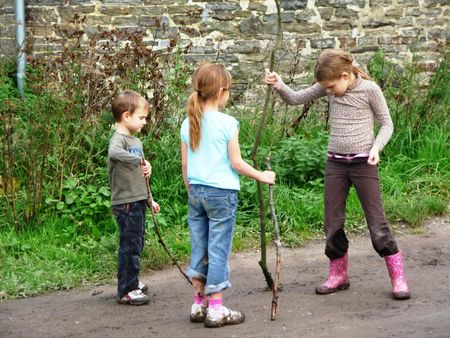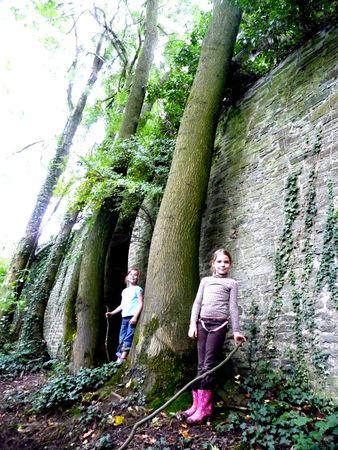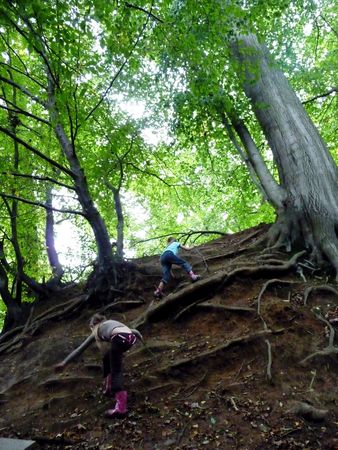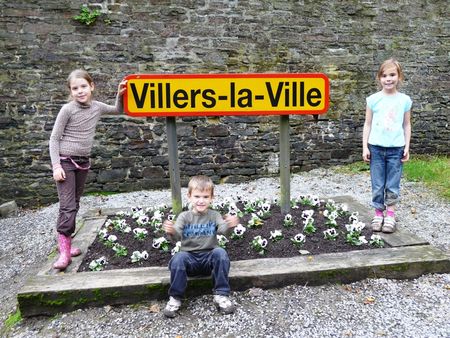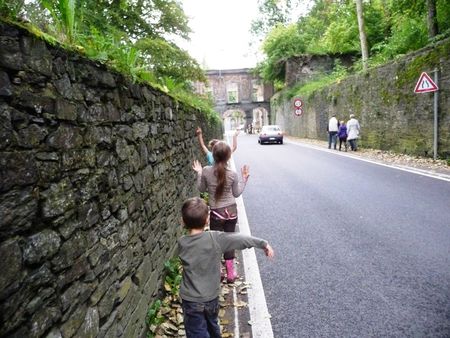 the Abbey in Villers-la-Ville is a very touristic place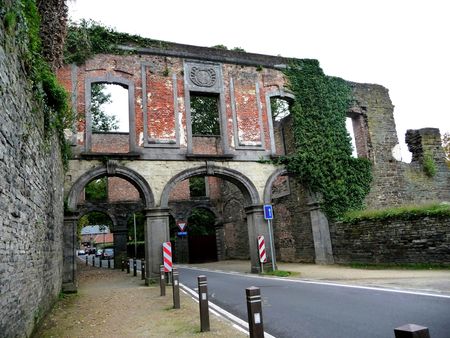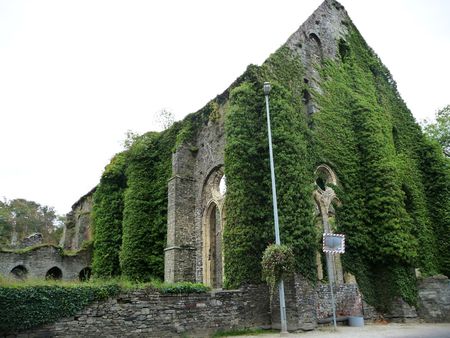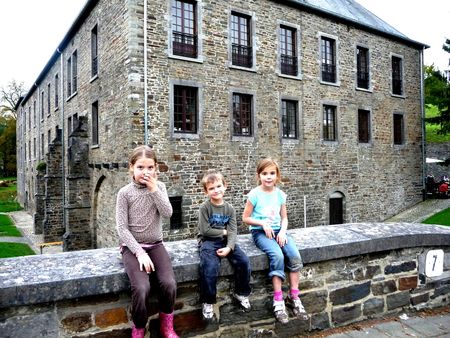 And that's it for tonight, I'm going to my bed!
Have a great week (hope it is sunny too)
25 septembre 2010
It's been a lonnnnng time since my last message! More than a month!
Well, we finally got our shipment!!! And guess when? The day before the kids were back to school!!! Yeah, it means that we needed to be well organized during the first weeks!
I was really busy during these last weeks, reorganizing the house (again), but now stuffs are out of the boxes and the house is almost settled as we wanted!
I share with you some pictures from this last month.
First come some pictures from our neighbour playing with Manon and Hugo on a one of a kind slide, before placing the matrasses to invite our Godson and Goddaughter!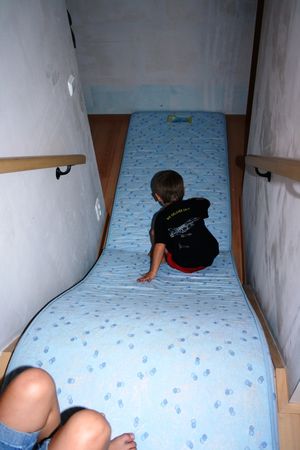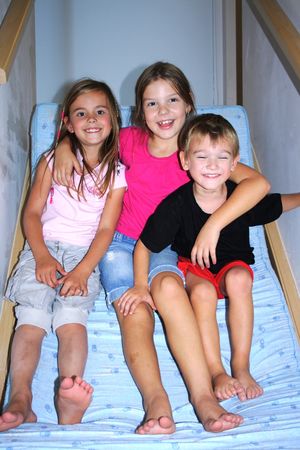 Then with our Godson and Goddaughter to Didier and I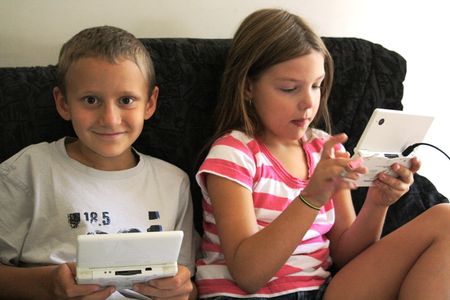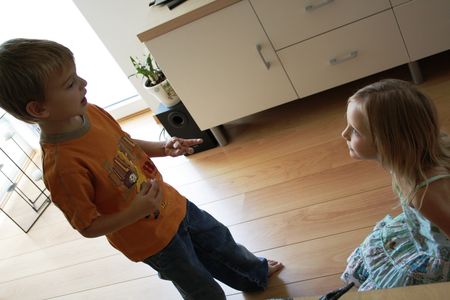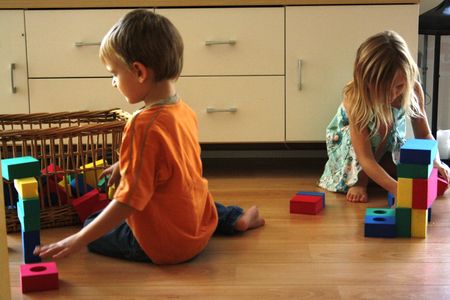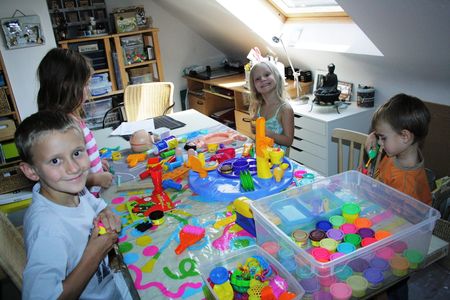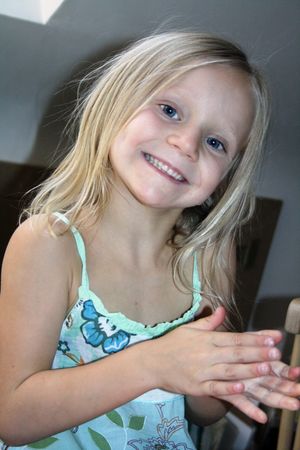 My mother in law's birthday party
my niece after a surgery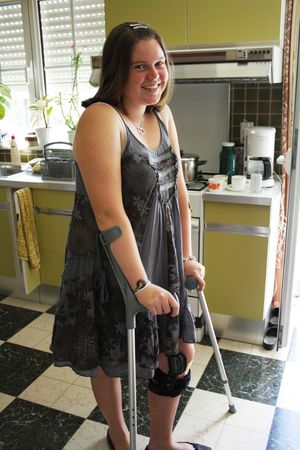 the 3 brothers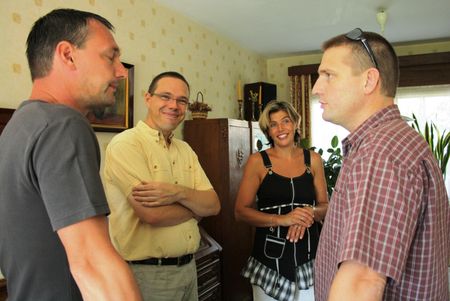 my sister in law, her daughter, Didier's grandma and Didier's brother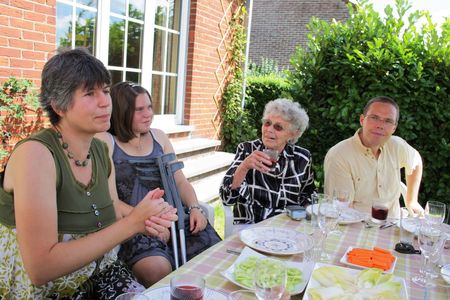 my mother in law, her son and daughter in law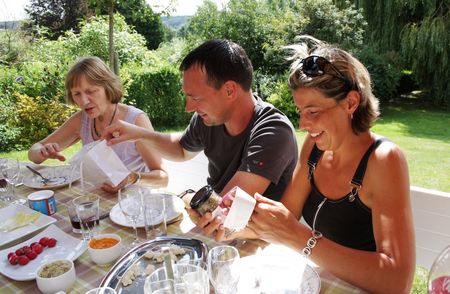 my mother in law opening her present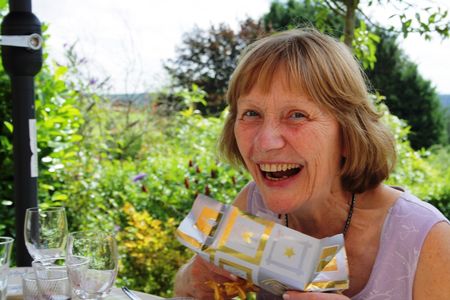 the kids together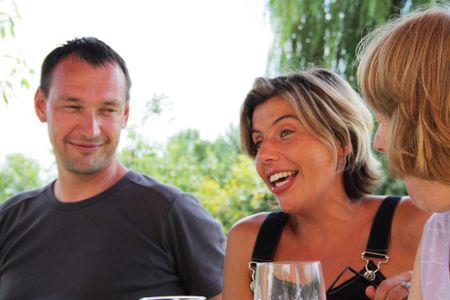 with the smallest one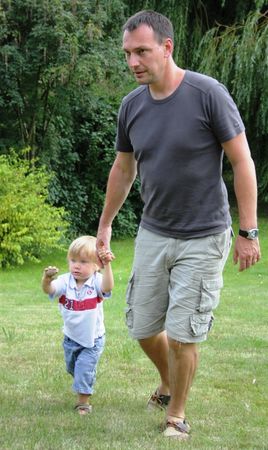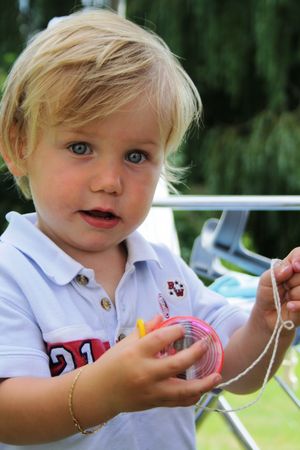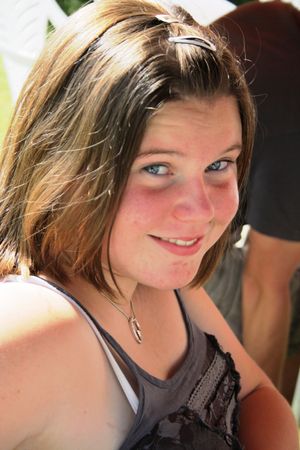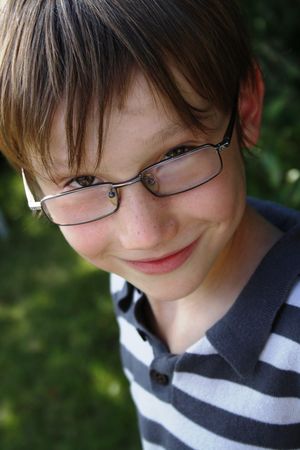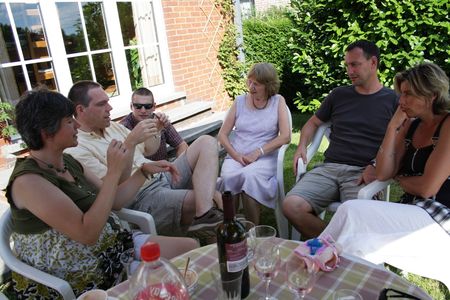 Didier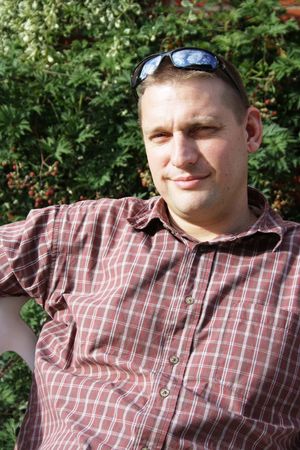 his grandma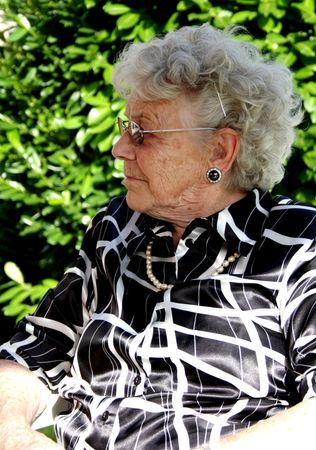 his mum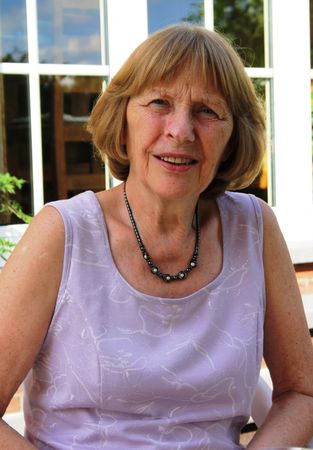 my sweet Manon
the boys digging in the yard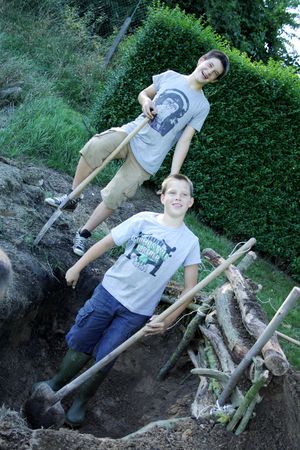 one of my nephews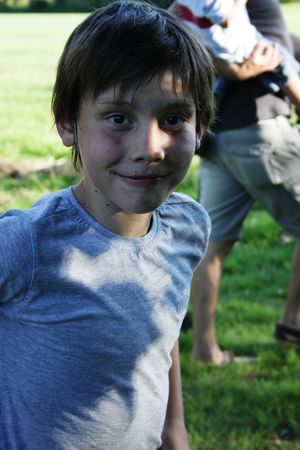 my godson again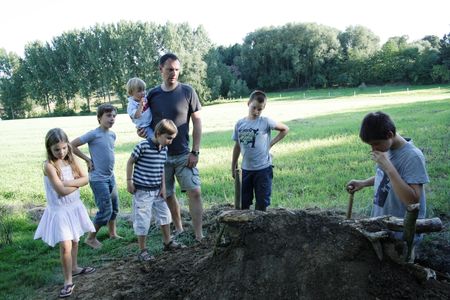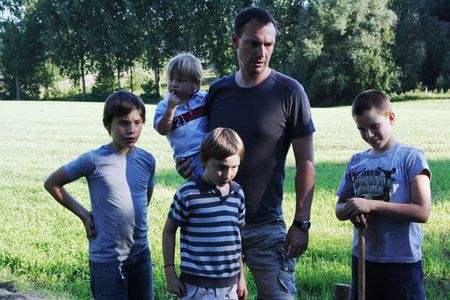 The two weeks before school starts back, the kids got activities outside. Manon has learned how to give massages, yoga for kids, relaxation, cooperation games, and others, she enjoyed a lot.
The week after, Hugo learns how to ride on a bike without the training wheels, and now he can do it! Manon did gardening, cooking, and games in the nature, she had fun too.
The shipment arriving on August 31st- directly from England- it took half an hour just to enter in the street, the truck was so long that it was really difficult for the driver to go in the street- finally he came in backward!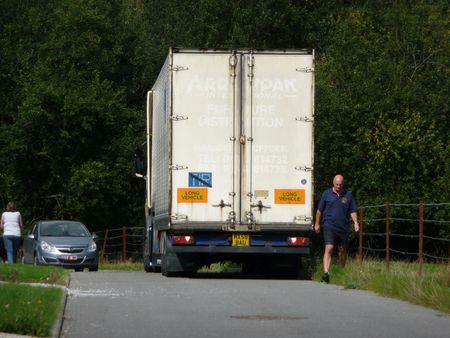 yeah, it seems to be our stuffs!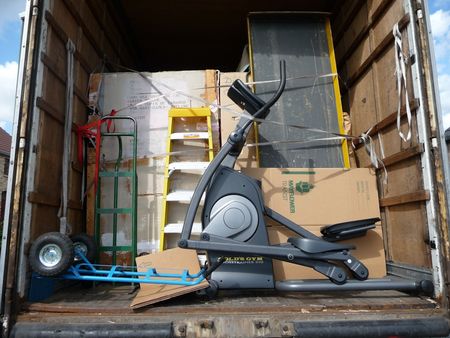 a part of the boxes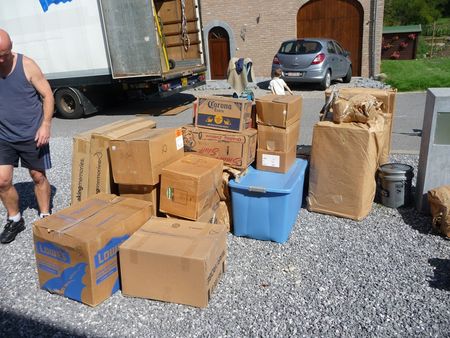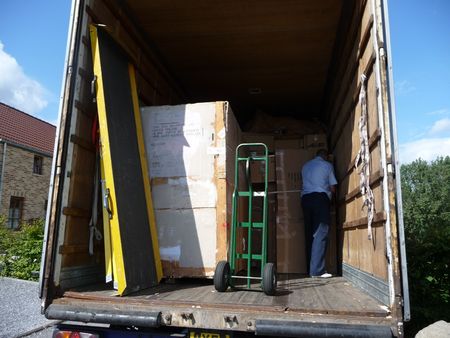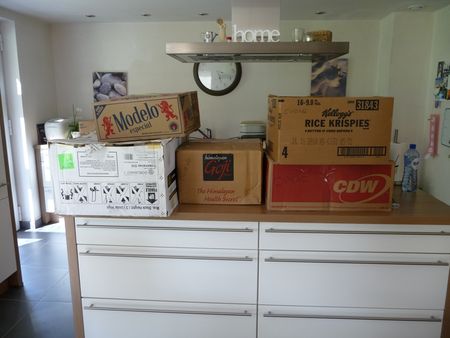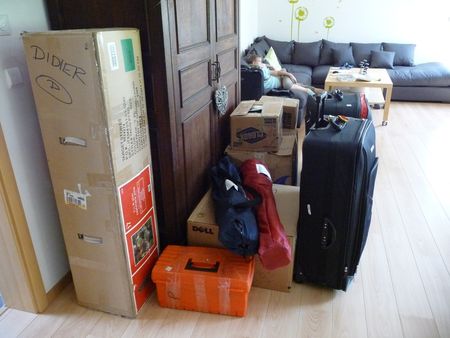 The day after, school starts back... in a new school!!!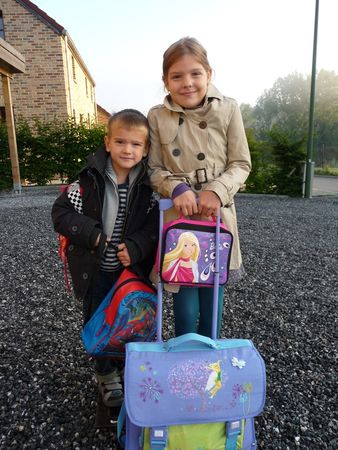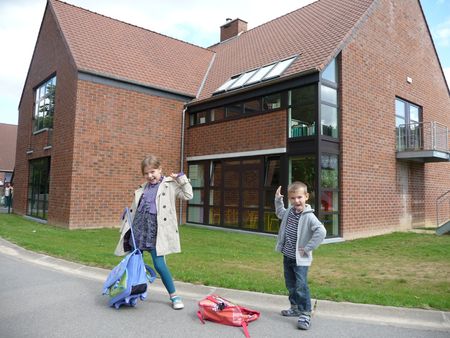 the countryside surrounding the school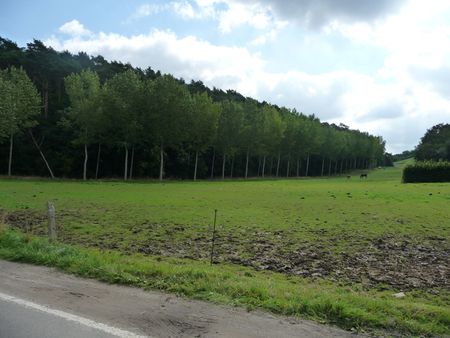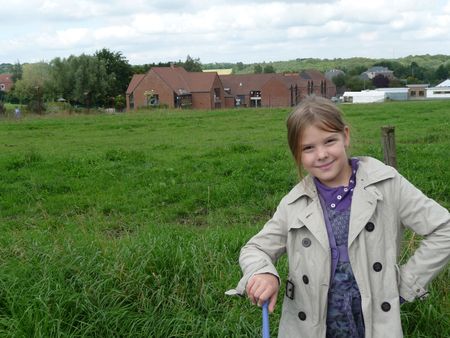 a few days later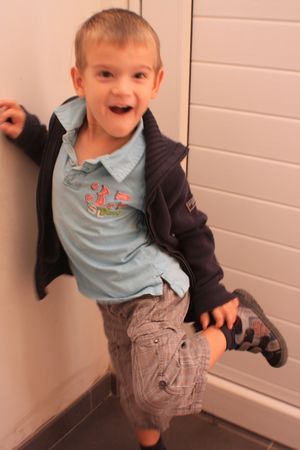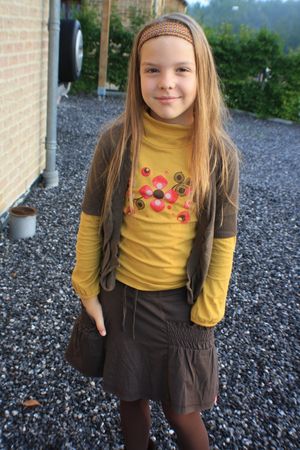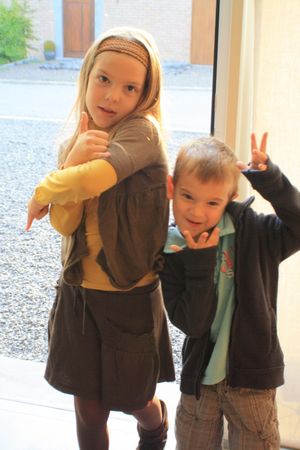 And a few pictures in the house after reorganisation
the hallway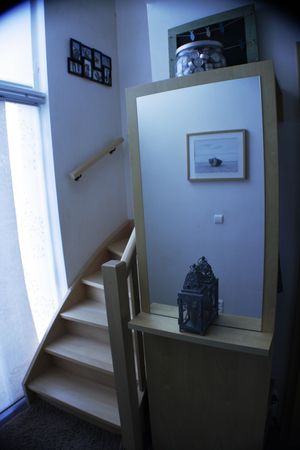 the office
the kitchen
the living room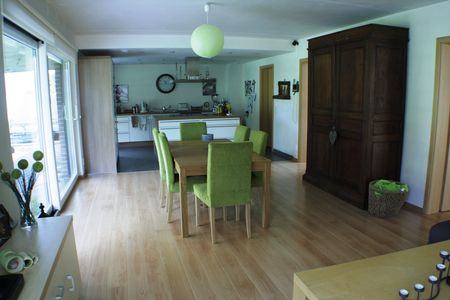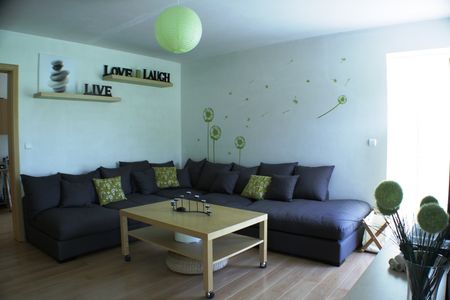 the playroom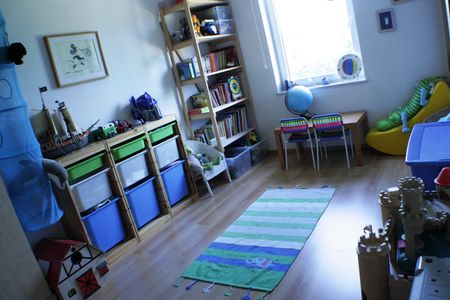 the scraproom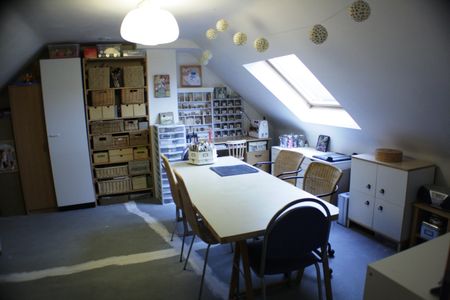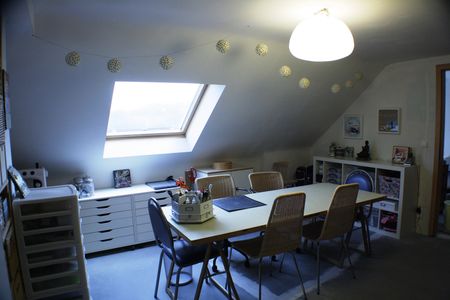 We are busy now with Didier's attic!- well, we are almost done!
I'm busy too reselling stuffs on second hand markets, it's so good for the mind to throw useless stuffs!
Here in a scrapbooking second hand market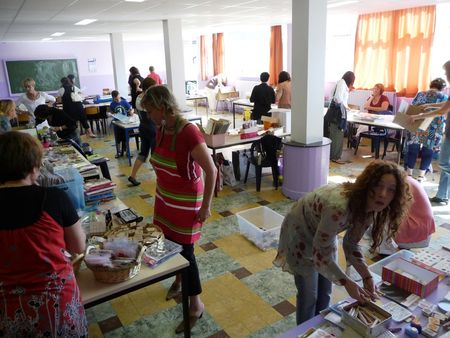 I started back MLC (in French: méthode de libération des cuirasses), it's a body awakness, a kind of yoga even softer. It's so good to get relaxed after these last crazy weeks!
Manon starts back with dance (one week ballet, one week jazz) and Hugo with psychomotricity.
Didier enjoys the place where he works and the job he does now!
Well, everything is really fine for us, and I hope things are the same for you!
Talk to you soon (less than a month ;-)).
13 août 2010
Hi,
OMG, it's been a long time I haven't come to give you some news!!! Time flies away!
I was still busy with second hand markets, visits, shopping for school and for the house, and time with the kids.
The weather in August is not as nice as in July! It gets even cold some days, and we still didn't get our shipment. And we need long sleeves sometimes and jeans!
On this week the weather is a little bit better, I enjoy it! I miss so much the sun!
I share with you pictures from two very good friends of mine and her families, Daphné and Virginie. Daphné is also Hugo's godmother. I was sooo happy to see them again!
Virginie and Joe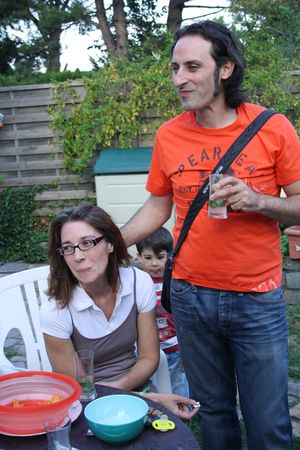 Daphné and Charlie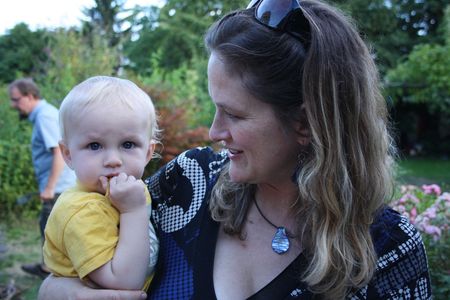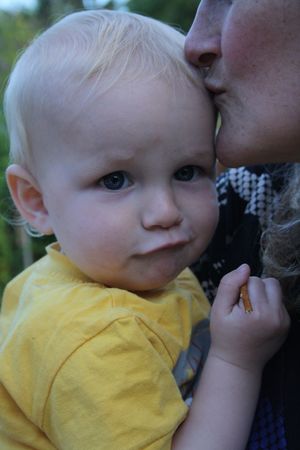 Fred trying to stay zen while grilling out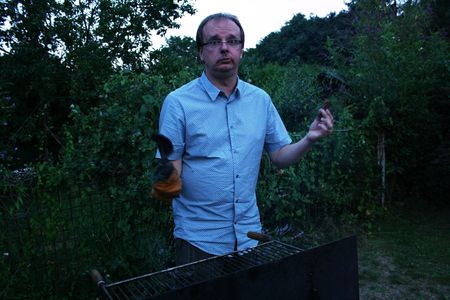 the kids enjoying their meal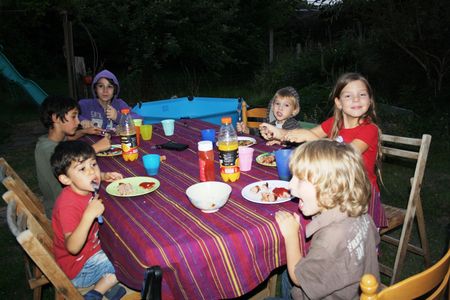 Sacha, Manon's lover since a long long time (they were just a few months old lol)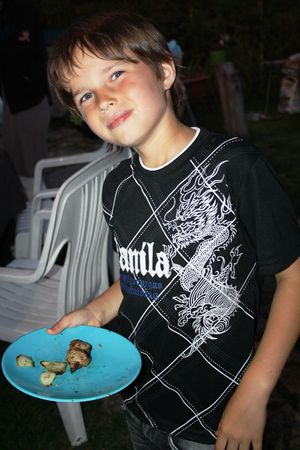 so good to be together again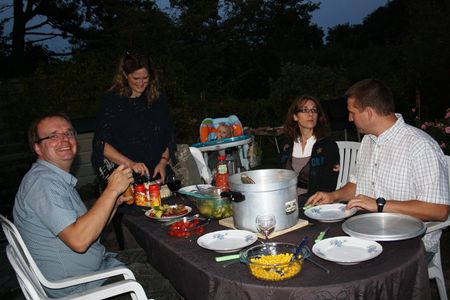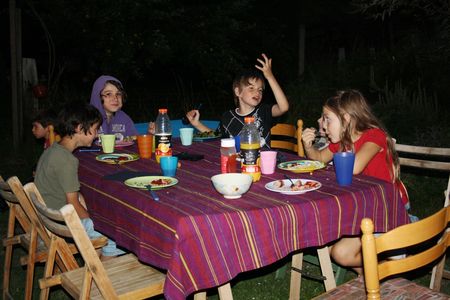 all kids birthdays celebration- great idea, Daphné!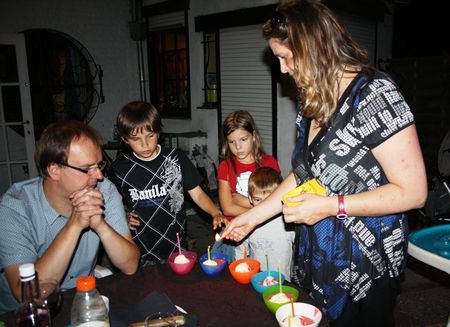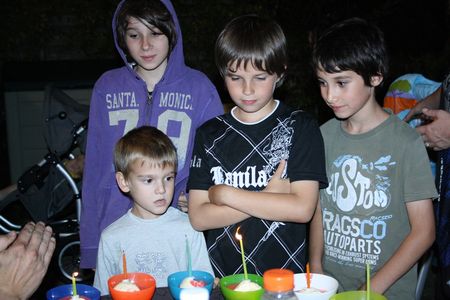 Lyman blowing his candle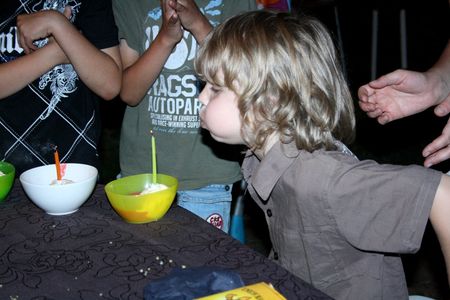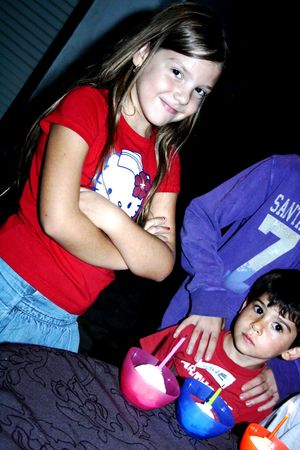 I also share with you a few pictures of an afternoon spent with my brothers and sis-in laws, my kids stayed to their place for a night on that day, and it was so strange for Didier and I to be as a new couple for a night, we haven't done that since a few months!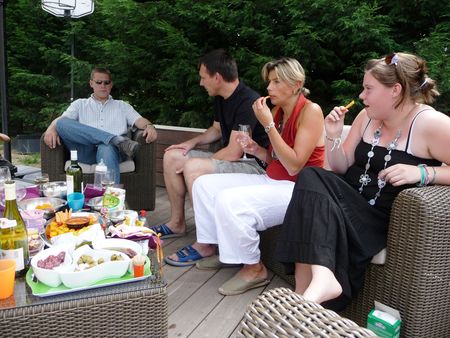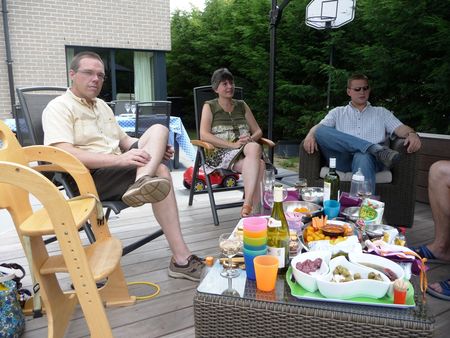 the rain join us for the party lol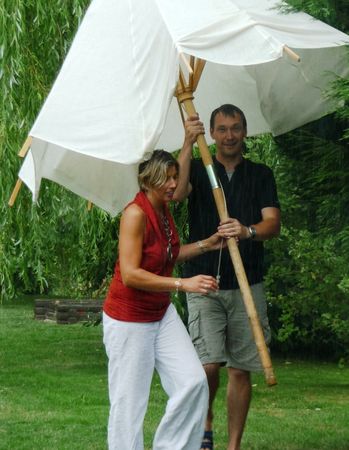 but the nephews don't care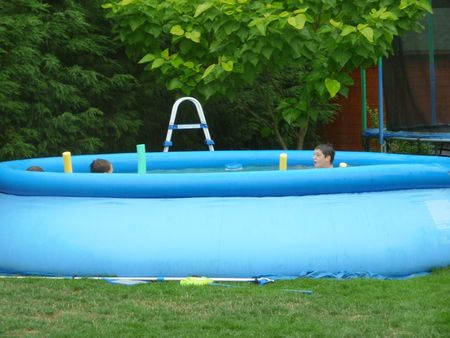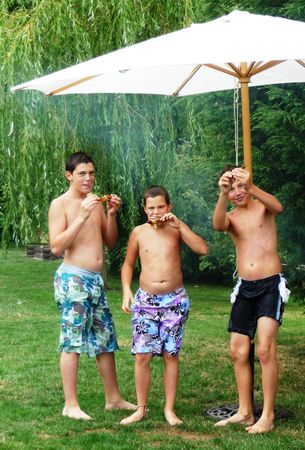 we finally eat inside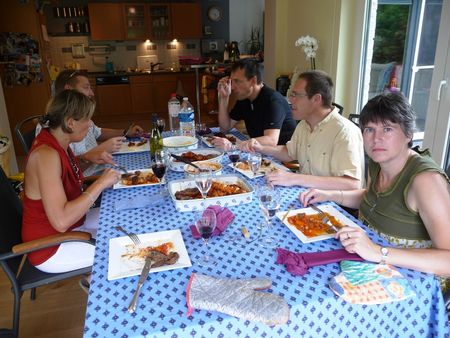 we meet the new rabbit- he's so sweet!!!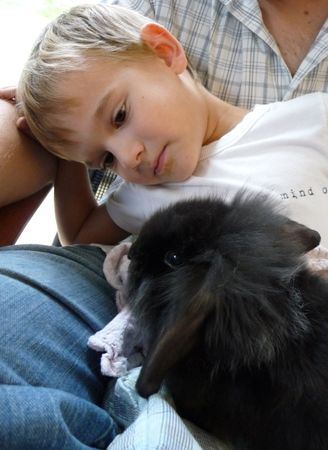 and the boys finish the afternoon by a soccer game
The day after I was invited to a friend of mine, Daniela, who came to visit us in the US on last october with another friend of mine: Carole. Carole joined us to Daniela place and suddenly, while drinking a cup of tea they asked me to go! To go where??? hoooo it's a surprise!!! They asked me to bring my scrapbooking stuffs, to go to the bathroom before, blindfolded me and brought me into the car,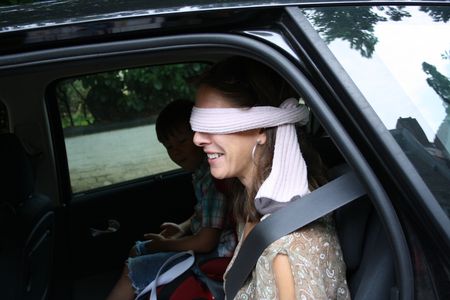 told me that it's gonna take 50 minutes riding, and 10-15 minutes later we were arrived- I tried to guess where we were- I had no idea! I imagined that we're gonna make scrapbooking in the woods or something like that... they were able to do something like that! We were outside, in the street, I could hear a car, but nothing else special which help me to guess...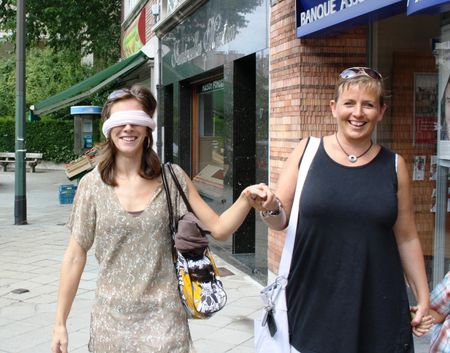 Carole or Daniela told me to be careful of a step than we turn to the right then I heard a "ding dong" as in a store... yes, I knew!!! We were in Scrapmania, a scrapbooking store where I used to go in Brussels! My friend Nicolle, the owner, started to laugh and I recognize her voice!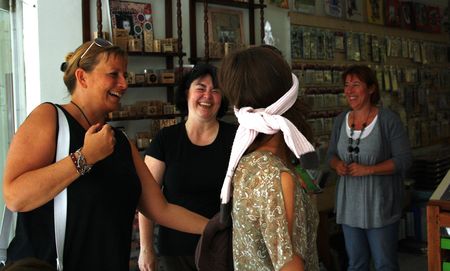 My big surprise was to see another friend there: Maguy! I thought it was hazardous at the beginning, up when Nicolle spoke about another friend who was supposed to come later... I realized that all these people were there just for me! Everything was foreseen (and I knew after that it was since May!)!
Nicolle opened a bottle of champaign in honnor of my arrival back to Belgium- I felt so blessed!
We spent a great afternoon together, Paloma joined us, and we share a good meal all together and chit chat a lot up to the evening!!! And even without scrapbooking! lol
and to my friends: Merci encore tout plein les filles! J'ai fort apprécié ce bon moment ensemble, à quand remet-on ça? lol
A few days after, my goddaughter came with her family, I was so glad to see her again- she grew up so much in a year! The weather was nice so we decided to go to the playground.
My cute goddaughter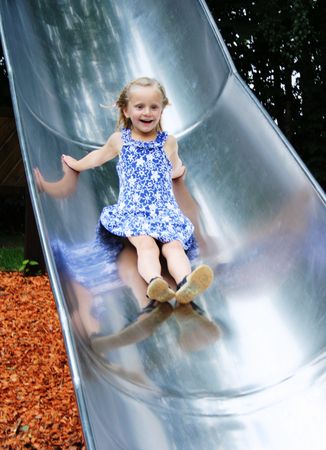 one of her brother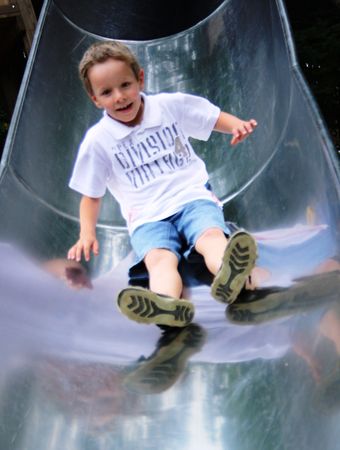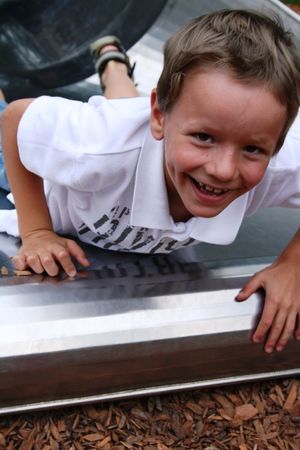 her other brother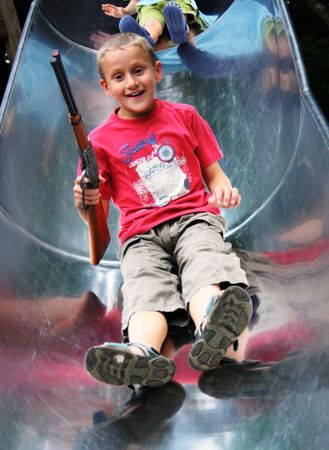 Hugo loves the slide
Hugo brought a part of his playroom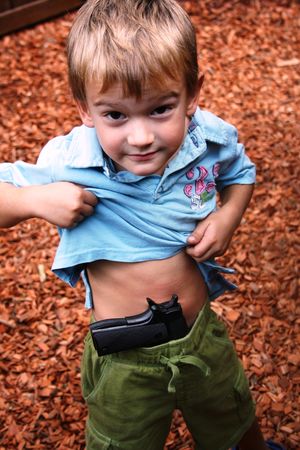 so much fun to catch the princess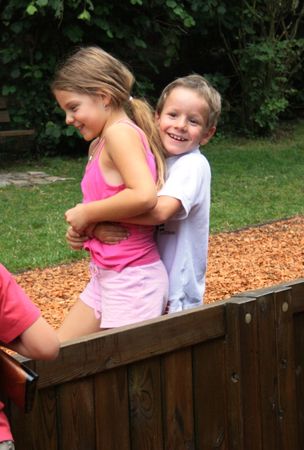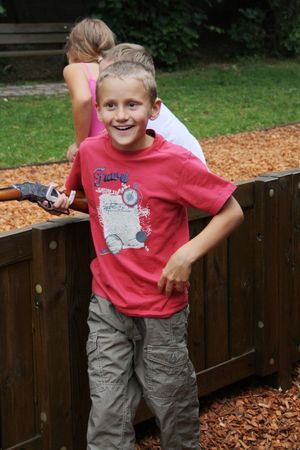 but girls have their revenge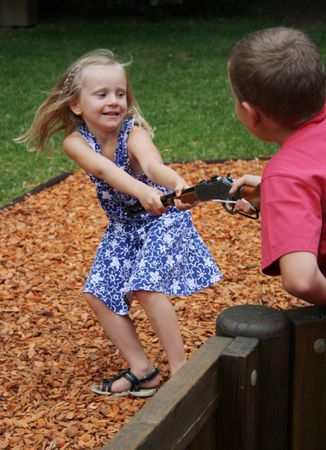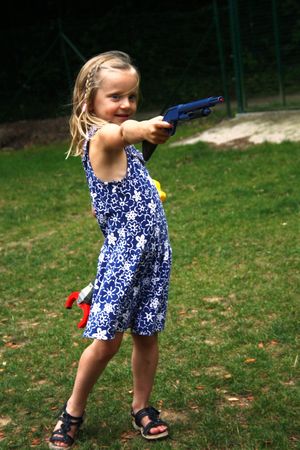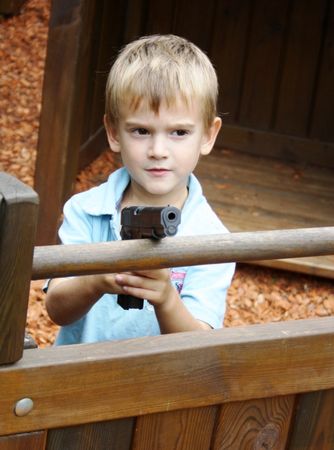 and kids are not the only ones enjoying!
small accidents happen sometimes but hugs and kisses can fix!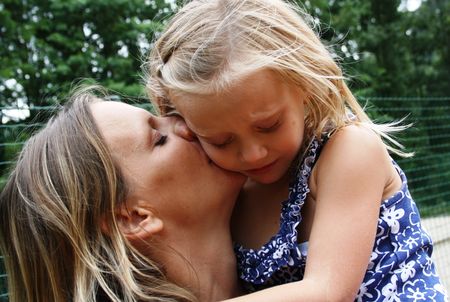 Hugo going into the trash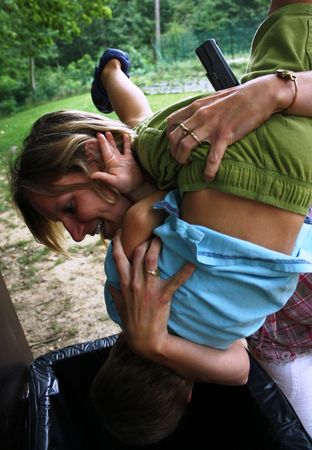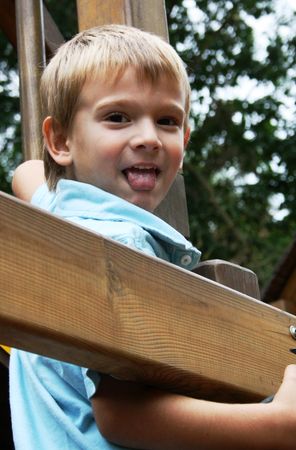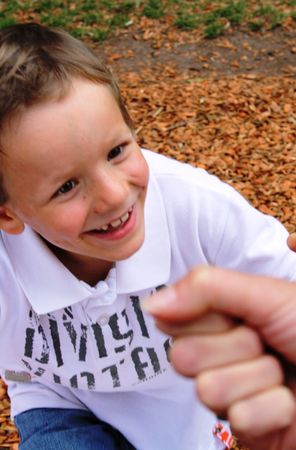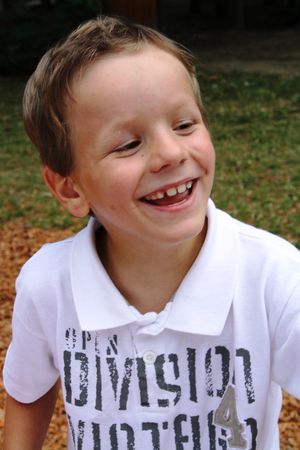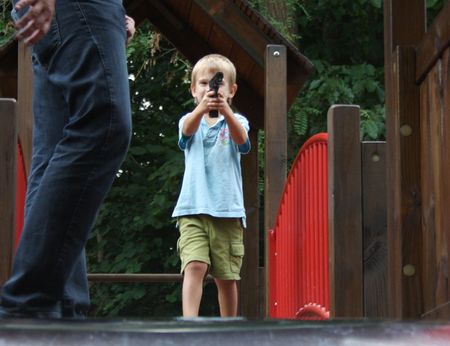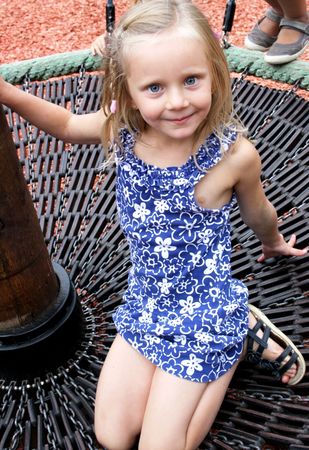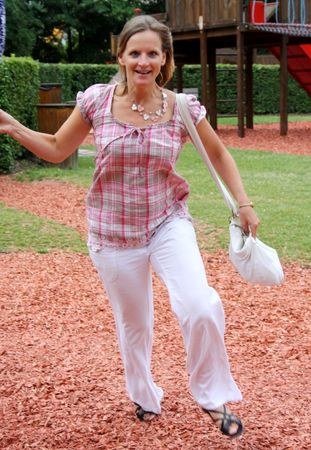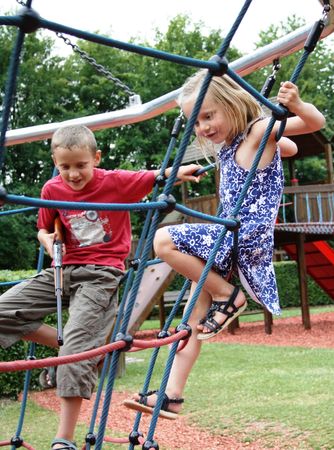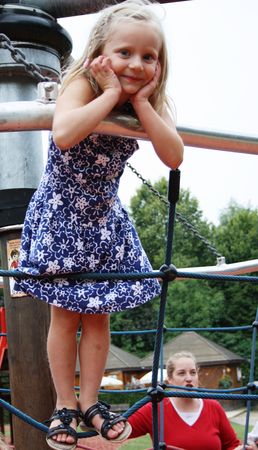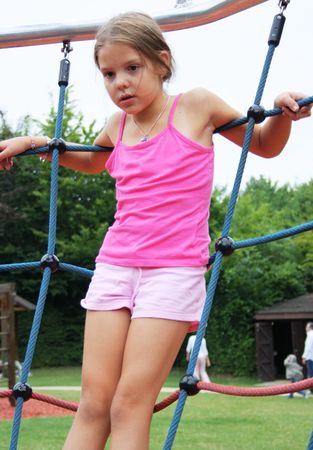 Well, that's it for today!
Have a good week-end, tonight are coming two of our godchildren. They stay for the week-end. We're gonna have fun again!
03 août 2010
Hi!
A few days already I haven't written anything here although I was really busy (that the reason why!)!
We got lots of visits, and visited as well. I had a crazy week-end too! Sooo busy but so good!
Well, I come back to share with you the pictures of my sister and her family when they came on last week-end (not this one, the one before!).
Just before I show you these two pictures of my nephew helping Didier to build a pergola (when, it's hot here, it's really hot inside the house, we don't have any airconditionning system in Belgium! So after trying with different systems which didn't work we finally decided to build this pergola). My nephew looooves doing DIY.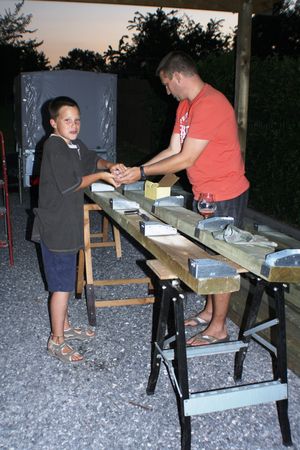 The day after, my sister came. She and I are really attached to each other, and Manon and her cousin too!
Since we are back home, Manon needs time to go back to her friends, but with her cousin, she didn't hesitate a minute.
Good to see again each other! Manon and her cousin Corry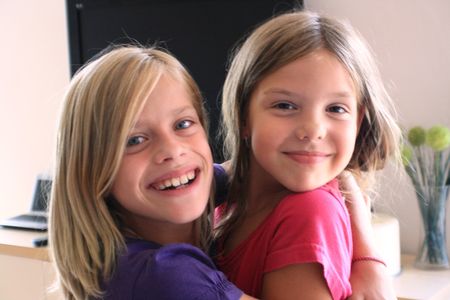 back to 'Louvain La Neuve'
my nephew Tanguy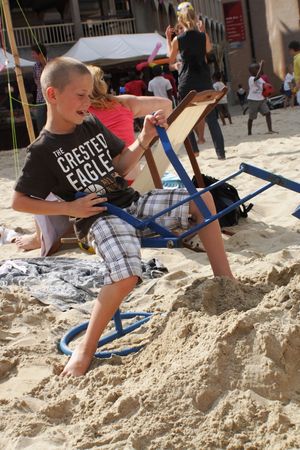 My lil' sister Cindy
the other cousins are still at home, so they came with us of course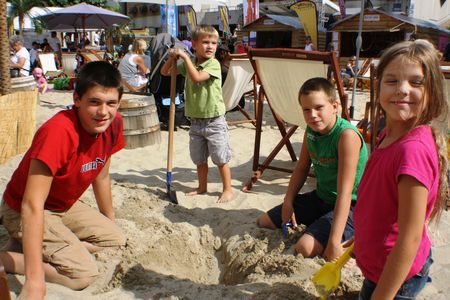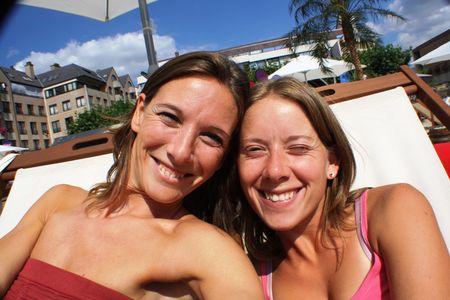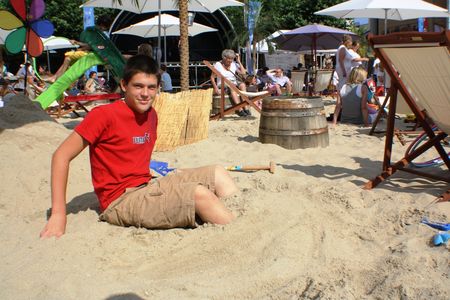 Martin and his brother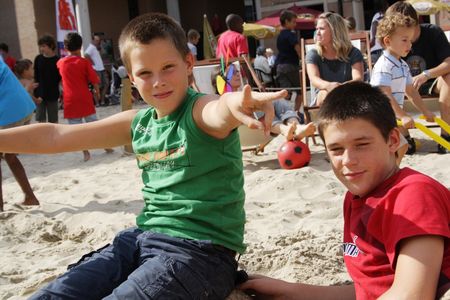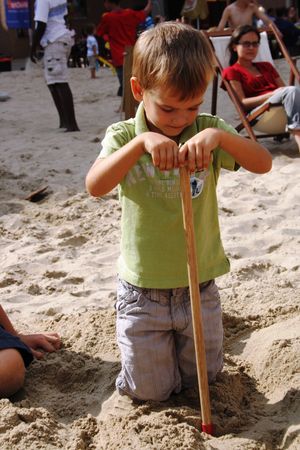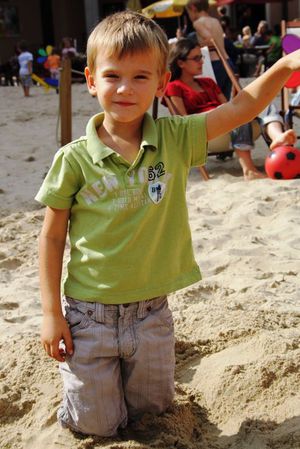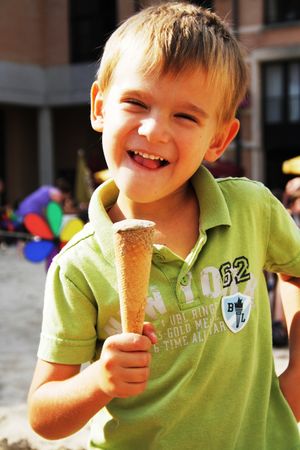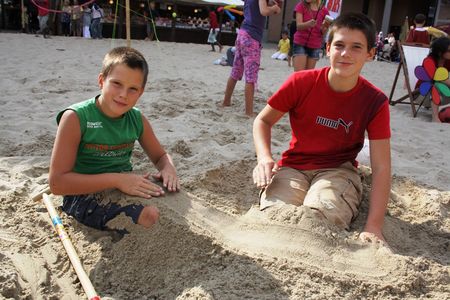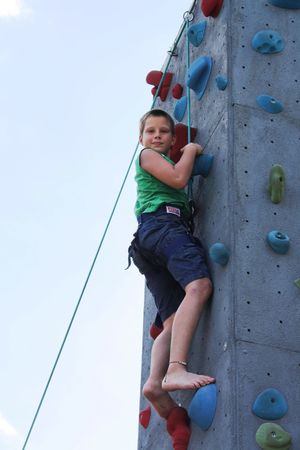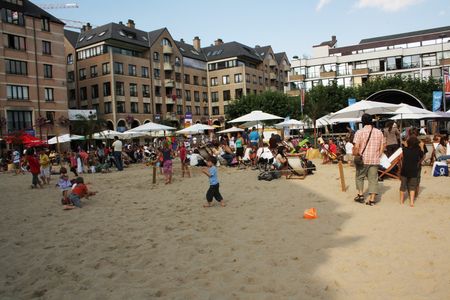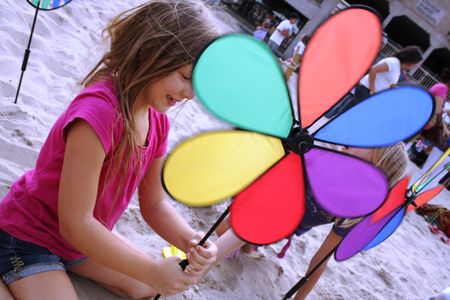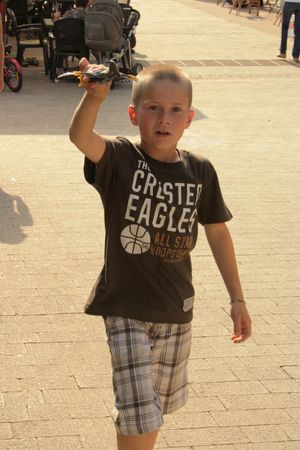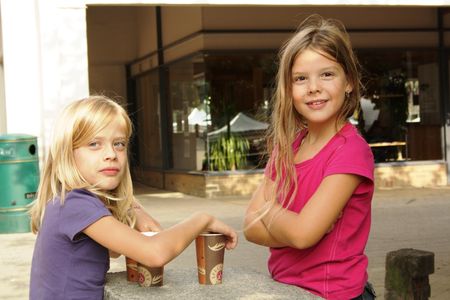 the two girls counting the shells they found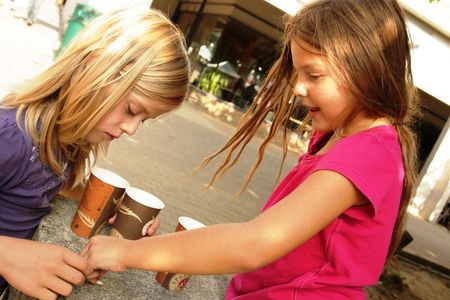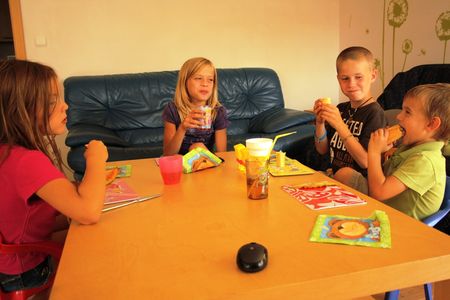 The second day, we started the day by artistics stuffs in my scraproom (where I do scrapbooking)
painting for Tanguy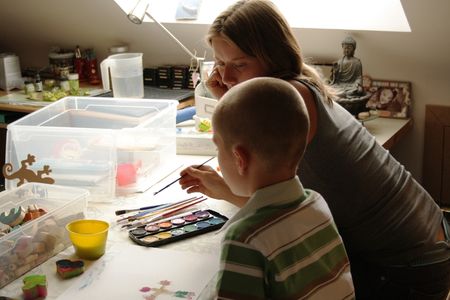 Play-Doh for the girls and Hugo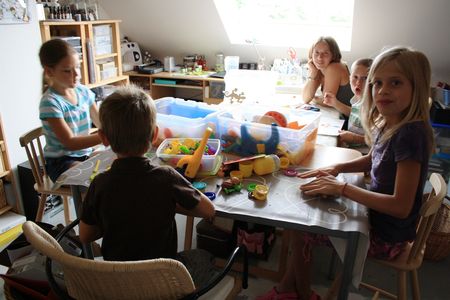 the weather is ok to go to a playground called "Au bois des Rêves"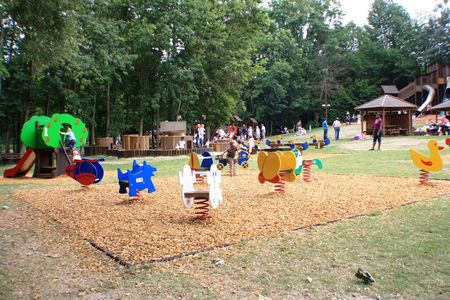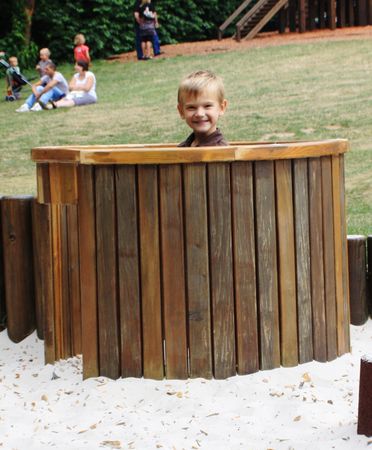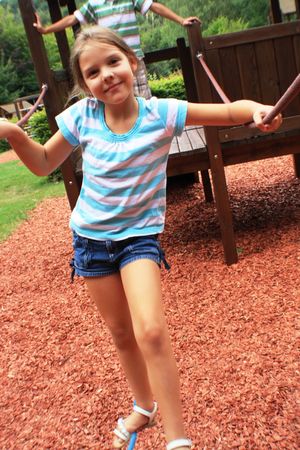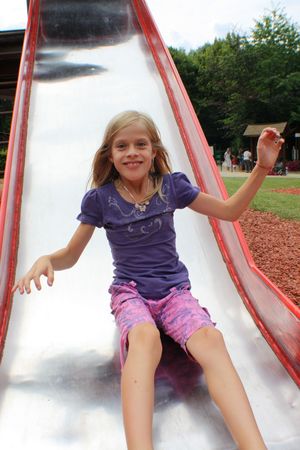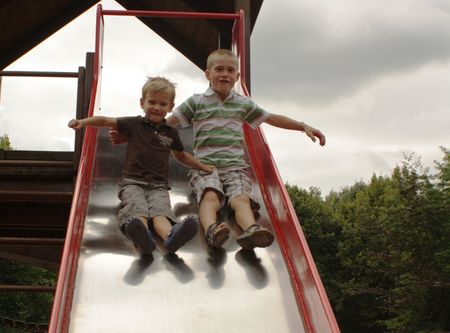 then a walk around the pond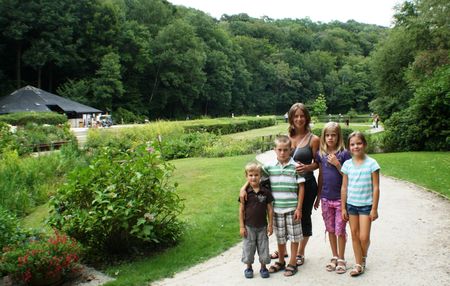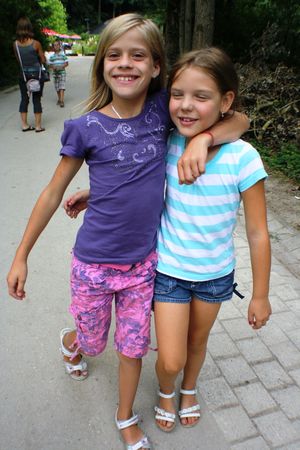 a visit to my neighbour's kittens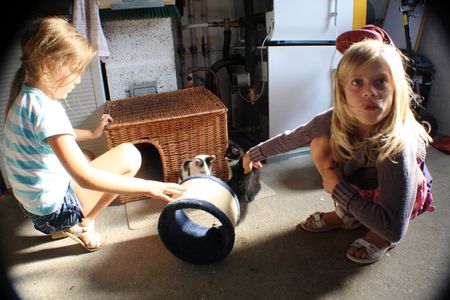 Eliott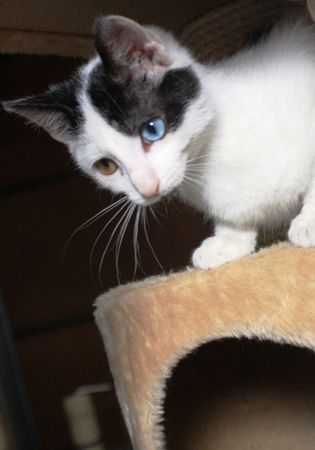 That's it for today! I wish you a nice and sunny day!
I'm coming back soon!